Ministers face calls to take urgent action on child homelessness this Christmas as staggering new estimates were revealed. 
The housing charity Shelter says there will be 131,269 homeless children in the UK this Christmas, of whom 9,500 will spend December 25 in a hostel or B&B.
Gary Beales, director of campaigns, said "the impact of the housing crisis will be felt across a generation" with as one in every 103 children now homeless.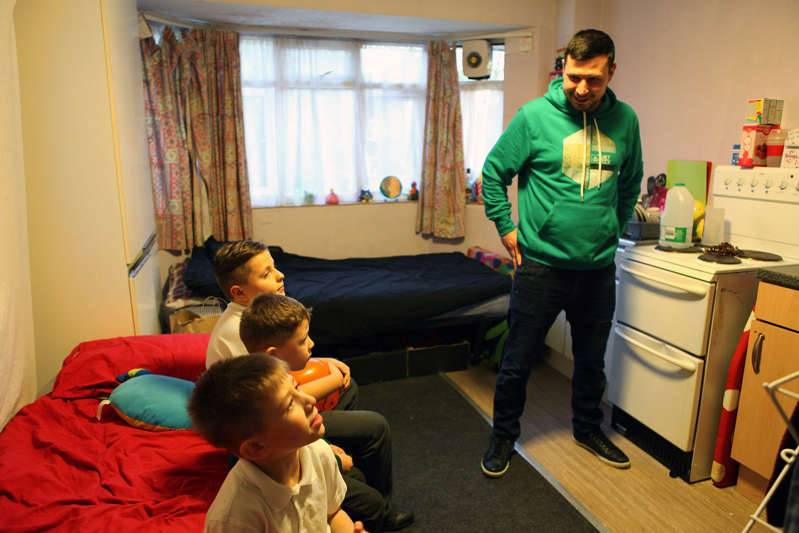 © PA Undated handout photo issued by Shelter of Glenn (no surname given) and his children who are living in an emergency hostel after becoming homeless
"The number of children hidden away in hostels and B&Bs is enough to make anyone's heart sink," he said. "These are not places for children.
"We hear about cold, damp – even rats. Young children are sharing beds with multiple family members, trying to play in dirty public corridors, and having to leave their block in the middle of the night to use the bathroom."
Shelter urged the public to support its Christmas appeal which aims to provide families with "the vital helpline advice and services they need in order to keep their homes over the festive period".
London ranked highest for the number of homeless children, which has nearly doubled in the last five years, Shelter's analysis showed.
The borough of Westminster was listed as the worst-affected area in the UK, where one in 11 children are homeless, the charity said.
James Murray, deputy mayor for housing in London, said: "It is shameful that the Government has allowed homelessness to rise to these levels and it is heart-breaking that so many children are suffering the consequences."
He said London Mayor Sadiq Khan was helping councils to build 10,000 council homes over the next four years. 
"But the truth is that councils desperately need far more help from the Government to help homeless families now and to build the council housing Londoners need," Murray added.
"Crucially, ministers must stop ignoring the root causes of rising homelessness and commit honestly to tackling them."
John Healey, shadow housing minister, said homelessness in the UK had doubled since the Conservatives came to power in 2010. 
"It's no surprise that homelessness is rising rapidly when the Conservatives have slashed investment in new affordable homes, refused to help private renters and made huge cuts to housing benefit and homelessness services," he said. 
Shelter's figures were calculated using the most recent official Government statistics on homelessness, from January to March, which showed 129,745 children in temporary accommodation.
The most recent figures for Wales were from April to June and totalled 1,524 children. The figure was calculated by multiplying the number of families in temporary accommodation, by the average number of children per family in Wales. Welsh authorities do not count the number of homeless children, unlike England and Scotland.
Heather Wheeler, the minister for homelessness, said councils had a duty to provide temporary accommodation and £1.2bn was being spent on tackling the homelessness crisis.
She added: "No family should be left without a roof over their head, especially during the winter months, and we are working to ensure all children have a safe place to stay where they can thrive." 
SOURCE: Huffingtonpost.co.uk