Swedish teenage activist Greta Thunberg has criticised the UK government's energy policy as environment secretary Michael Gove admitted the country had "not done nearly enough" to tackle climate change.
Addressing an event in parliament, the 16-year-old campaigner said the government's active support for the new exploitation of fossil fuels was "beyond absurd".
Mr Gove told Ms Thunberg she had "been heard" after a series of meeting with MPs and party leaders in Westminster on Tuesday.
© Leon Neal/Getty Images LONDON, ENGLAND – APRIL 23: Swedish environmental campaigner Greta Thunberg (2R) receives applause after addressing politicians, media and guests within the Houses of Parliament on April 23, 2019 in London, England. Her visit coincides with the ongoing "Extinction Rebellion" protests across London, which have seen days of disruption to roads and transport systems, in a bid to highlight the dangers of climate change. (Photo by Leon Neal/Getty Images)"The UK's active current support of new exploitation of fossil fuels, like for example the UK shale gas fracking industry, the expansion of its North Sea oil and gasfields, the expansion of airports, as well as the planning permission for a brand new coal mine, is beyond absurd," Ms Thunberg told MPs.

"This ongoing irresponsible behaviour will no doubt be remembered in history as one of the greatest failures of humankind."
Speaking alongside Ms Thunberg in parliament, Mr Gove said: "We have not done nearly enough. Suddenly in the past few years it has become inescapable that we have to act. The time to act is now, the challenge could not be clearer, Greta you have been heard."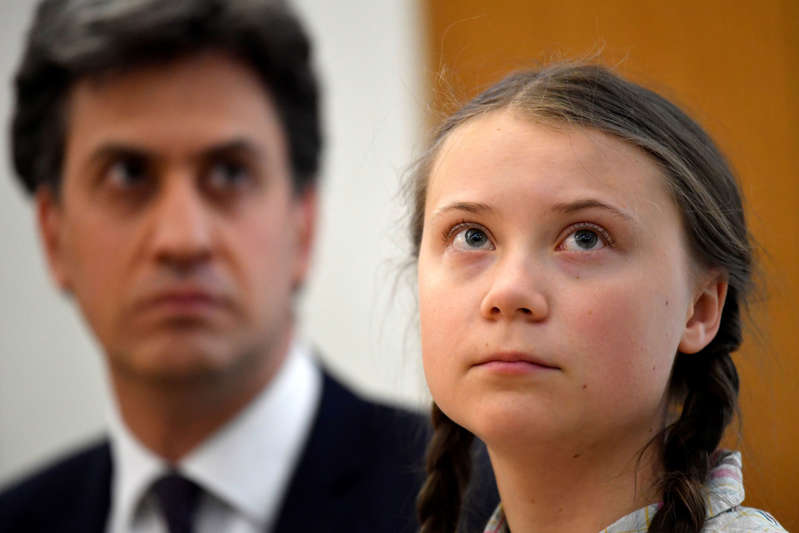 © Thomson ReutersMs Thunberg also held a meeting with Labour leader Jeremy Corbyn, Liberal Democrat leader Vince Cable and Green party leader Caroline Lucas.
A chair and name card were prepared for Theresa May, the prime minister, who was invited but unable to attend.
The teenager addressed the UK politicians as hundreds of climate change protesters, led by the Extinction Rebellion campaign group, gathered outside parliament.
The organisation is calling on the UK government to declare a climate emergency, slash greenhouse gas emissions to net zero by 2025, and create a "citizens' assembly" that will debate climate issues.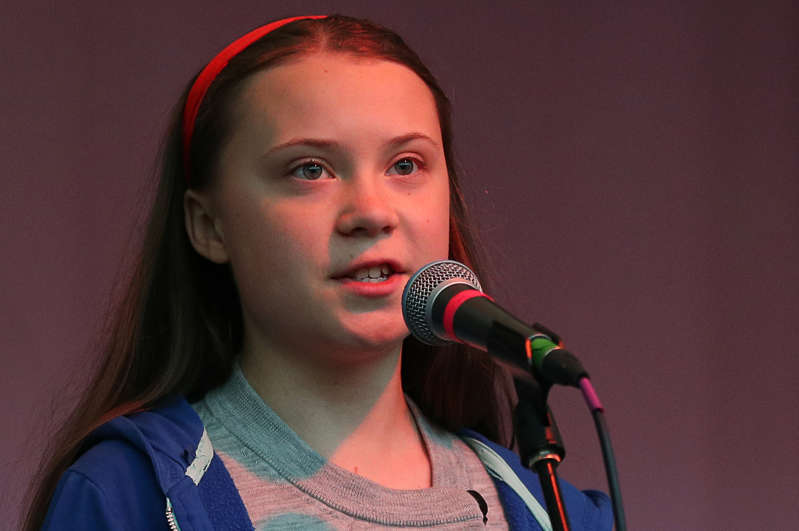 © Thomson Reuters Swedish environmental activist Greta Thunberg speaks during the Extinction Rebellion protest at Marble Arch in London, Britain April 21, 2019. REUTERS/Hannah McKayMs Thunberg, the campaigner behind the youth climate strikes that have gone global, addressed the demonstrators, telling the crowd that the world was facing an "existential crisis" caused by years of political inaction on the environment.
More than 1,000 people associated with the movement have been arrested since the protests began more than a week ago.
Despite global efforts to reduce carbon dioxide emissions, according to the world's energy watchdog, global carbon dioxide emissions rose to their highest level last year.
The International Energy Agency warned in March that energy demand rose 2.3 per cent last year — its fastest rate since 2010 — and that the growth was met mainly by fossil fuels.
Ms Thunberg called on MPs to "listen to the science". Speaking in parliament, she warned that young people's futures had been "stolen".

"We probably don't even have a future any more," she said. "That future has been sold so that a small number of people can make unimaginable amounts of money.
"It was stolen from us every time you said 'the sky is the limit'."
Source: Ft.com