It all starts with a flipper pie. Slow pot roast in the oven, topped with a dome of buttery pastry crust and rich like salted rabbit, but fattier and oilier because it is, in fact, thick-cut harp seal.
If you're thinking, "So, did he eat that?", you'd be wrong. I didn't. Not because I wouldn't but my visit to Newfoundland was out of the official seal- hunting season in April and it was off-menu.
Nevertheless, this is how it's described to me by someone who has it regularly for Sunday lunch. "Lip-smackingly delicious," I'm told.
Flipper pie or not, the potential rewards on a culinary road trip in Newfoundland are worth it. I'm on the 300-mile Viking Trail, dubbed Canada's most beautiful road, and this is how life goes on the razor's edge of the northwestern coast.

The food scene here isn't based on trends — it's based on necessity, just as it was when the Vikings first landed from Greenland 1,000 years ago. Cod cheeks and moose sausage are staples. Beetroot is always in fashion. Seal jerky isn't a gimmick.
Then there's the appeal of the road's end-of-the-world vibe itself. Newfoundland is the Valhalla of Canada — everyone has heard of it but few know where it is and fewer still are lucky enough to have been.
A few hours on the road north from Deer Lake Regional Airport, which services Newfoundland's second-largest city, Corner Brook, and there's a distinct air of unpredictability. One restaurant advertises the dish of the day as a "Newfie Mug-Up"; a kid-you-not slice of bread served with molasses and a cup of tea. Another serves moose burgers and "fish and brewis", a cod and rock-hard bread fritter fried with crunchions (fried pork rinds). It tastes like a dehydrated rusk. Dessert is rhubarb soup with sour cream.
As I've come to learn how to eat like a Norseman, it feels appropriate that L'Anse aux Meadows is my next stop. Discovered in 1960, it's the only authenticated Norse site in North America. Indeed, it would be rude not to spend an evening in the company of a few heavily bearded men draped in wool tunics and animal skins to get a sense of how Newfoundland's ancestors got here in the first place, before heading back along the trail.
© Provided by Independent Digital News & Media Limited Corner-Brook.jpgAfter dark, the evening begins in front of a glowing fire inside a reconstructed sod longhouse at the heart of the site. The dimly lit room, embellished with rusted weaponry and deer pelts, is a reconstruction of a Viking skáli (kitchen) and is brimming with banter from long-haired Viking re-enactors. One of them, who calls himself Ragnar, begins to tell the tale of how 10th-century explorer Leif Erikkson, son of Erik the Red, founded L'Anse aux Meadows 400 years before Christopher Columbus arrived — all the while topping up his drink with mead (disappointingly, I later find out it is lingonberry juice).
The stories, effectively a potted history of Newfoundland's Viking history, are PG13 versions of the bloody, sex-filled romps that draw most people to the History Channel's Vikings. We hear the tale of how Thor got his hammer back (by dressing as a transvestite) and one about Erik the Red's daughter Freydís Eiríksdóttir, whose battle cry was to expose her breast and beat it with a sword's hilt ("enough to scare the bejesus out of any warrior," says Ragnar). There was never any question that the Vikings had hell and tarnation in reserve but I didn't know they stooped to Game of Thrones levels of trickery.

My next stop is a lovely little roadside stop called the Plum Point Motel, overlooking Old Ferolle Harbour, where Captain Cook moored in the mid-18th century while on expedition. The restaurant specialises in just-landed scallops and fish chowder brimming with chunks of salmon and halibut but it's the more outrageous pan-fried cod tongues, sodden with pork fat, that gets an approving nod from me. They have the same zing you'd find in monkfish cheek scampi, and are memorably delicious. The restaurant doesn't wimp out on dessert either: for that, there is a creamy bread pudding with a dollop of lingonberry jam.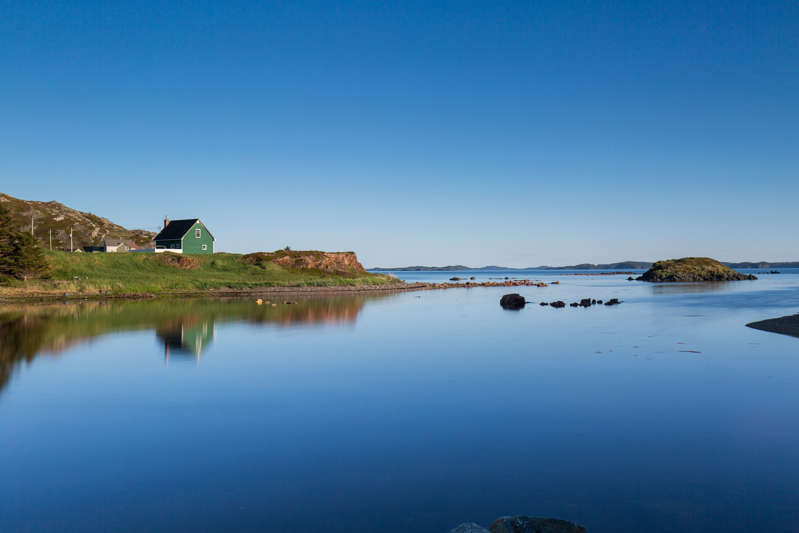 © Getty A green house reflected in a calm lake, Newfoundland, Canada.By now, I'm keen to uncover another side of Newfoundland's diet, one that has more in common with haute cuisine, and so we drive further south, past lobster traps lined along the roadside, to Rocky Harbour at the entrance to Bonne Bay. It's an unlikely culinary Shangri-La at the heart of the wild and untamed Gros Morne National Park.
In the company of Tara Kroes, who runs Taste of Gros Morne food tours, we buzz between three restaurants in a blur. At Jason Lynch's The Black Spruce, we wolf down a bowl of bacon-topped seafood chowder. Next, Tara shuttles us to the Sugar Hill Inn, where owner Vince McCarthy unpacks the ingredients of a pan-seared halibut, rolled in pumpkin seed crust with lentil risotto and Swiss chard (most of which he picked from his garden).
Dessert — cloudberry cheesecake — is served at the Ocean View Hotel. The pudding is more complicated, and more rewarding, than a reading of Beowulf.
The final stop of my trip is back at Deer Lake, inside the Deer Lake Motel, where a plate of bar-setting cod and chips is washed down with Iceberg beers from Quidi Vidi Brewing Co. Checking the label, I see it's been made using water from a 20,000-year-old iceberg that far predates the arrival of every Viking that set foot in North America.
You don't have to be of seafaring stock to appreciate it but if this is how the Newfoundlanders do hand-to-mouth pub grub, then give me a horned helmet and a longship and send me back.
Details: Newfoundland
Air Canada flies to Newfoundland direct from London. Visit Go Western Newfoundland or Explore Canada for itineraries and further trip ideas.
Source: Standard.co.uk