Pep Guardiola has likened Ole Gunnar Solskjaer's appointment at Manchester United to his own big break at Barcelona.
Guardiola was chosen ahead of Jose Mourinho when Barca were looking to replace Frank Rijkaard at the Nou Camp in 2008, despite having only managed the Catalan club's B team.
It proved to be an inspired appointment with Barca going on to win two Champions League trophies under him.
While few at Old Trafford are expecting similar feats from Solskjaer after the 1999 Treble hero was named interim manager this week – he has been handed the opportunity to stake a claim for the job on a permanent basis.
And Guardiola has welcomed his arrival, saying: "When a young manager like Ole Gunnar Solskjaer has this chance it's because the club decide he can do it. I was quite similar. We were young and were given this opportunity.
"I had done different jobs and you cannot compare playing to being manager.
"I wish him all the best."
Like Guardiola at Barca, Solskjaer has the advantage of having played for United and earning legendary status for his Champions League-winning strike in 99.

Guardiola added: "I was there since I was 13 years old. You know the club and that's an advantage for sure. Knowing the people and how it works, everything, it's important.
"You have been there in the past and you know many things about the club, that's something positive."
Ed Woodward has already begun the process of finding a permanent successor to Mourinho and that will continue regardless of Solskjaer's success on the pitch.
Mauricio Pochettino heads a stellar list of candidates that also features Max Allegri, Diego Simeone and Zinedine Zidane.
But Molde manager Solskjaer has made it clear he wants to be considered too.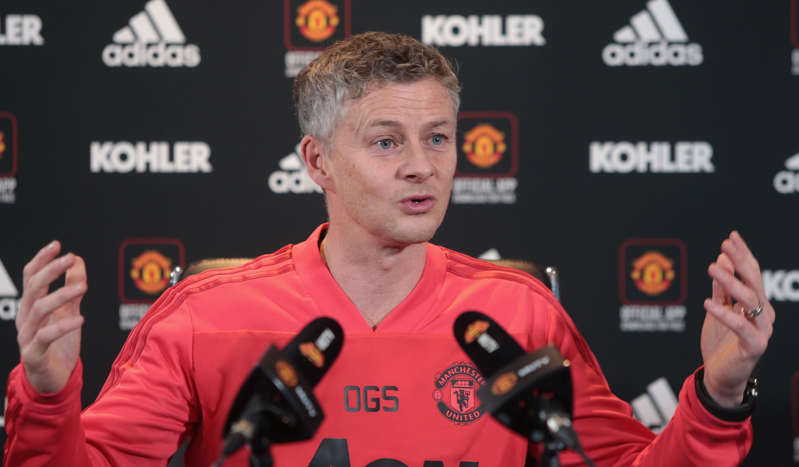 © 2018 Manchester United FC MANCHESTER, ENGLAND – DECEMBER 21: (EXCLUSIVE COVERAGE) Caretaker Manager Ole Gunnar Solskjaer of Manchester United speaks during a press conference at Aon Training Complex on December 21, 2018 in Manchester, England. (Photo by Tom Purslow/Man Utd via Getty Images)
"I wouldn't be here if not," he said. "I'm ambitious. I understand the club is doing a process.
"I have the perfect life back home, I must say, then out of the blue I get this phone call and if we come to May and I've done a good job and they've found a new manager, fantastic.
"That's just my aim now to do a good job the next five or six months."
Mourinho's United reign ended on Thursday with United sitting 11 points adrift of the top four.

The 55-year-old was repeatedly criticised for his decision to base himself at the Lowry Hotel during his two-and-a-half years at Old Trafford.
By contrast Guardiola has immersed himself in Manchester, buying property in the city centre and a restaurant.
But he said: "I think it's important what happens on the pitch. My family is here, it's normal to live in a house or apartment.

"Jose, he lived alone here and decided to live in a hotel, but I think he went to restaurants. I think he went out. He didn't stay 24 hours in the room. So I cannot speak about what was his life here."
Source: Standard.co.uk