The man with the giant pot of sarma drew me like a magnet. Carefully he stirred the hefty rolls of cabbage leaves stuffed with meat, rice and spices in the fragrant broth swimming in sauerkraut. Huge ham hocks simmered around the edges, their tenderness increasing by the minute. All around was the scent of mulled wine and hot rakija (brandy); every space was filled with festive white chalets festooned with lights. I was in Zagreb's European Square, where I was discovering one of the city's 14 festive markets. Yes, 14.

If you think European Christmas markets are little more than twee tourist traps selling overpriced trinkets, you haven't been to Zagreb's Advent market. It's a city-wide street party with a civilised buzz that makes everything sparkle and glow. And it wasn't just the mulled wine, or the rakija, or the hot gin…
Here the markets permeate the city, filling parks, squares, lanes and even tunnels. Handily right by my hotel, The Palace, was a trio of parks, each with its own market. King Tomislav Square, facing Zagreb's 19th-century railway station, was transformed into the Ice Park, with an ice-skating rink meandering around the square's fountain and down brightly lit paths.
© Provided by Independent Digital News & Media Limited The sarma man in European Square, Zagreb (Adam Batterbee)
Next up was Strossmayer Square, where numerous stalls had been set up around the park, including pop-ups from some of Zagreb's craft breweries and restaurants. The Fuliranje — which translates as "fooling around" — had a trendy vibe, with food stalls offering twists on Croatian classics, including, a rarity here, a vegan stand. It looked as if Shoreditch had wandered over from London and set up a Slavic street-food market (at very reasonable Croatian prices). As with almost every other market in the city, there was a stage for music and DJs, adding to the party atmosphere.
Neighbouring park Zrinjevac went for a traditional look and created a magical forest of fairy lights draped around plane trees, dripping from the old-fashioned bandstand, decking all the chalets. There were more craft stalls here, mainly selling Christmas decorations, sweets and homemade honey.
© Provided by Independent Digital News & Media Limited Sweets in Zrinjevac park market, Zagreb (Adam Batterbee)
By the time I reached Zagreb's main square, Ban Jelačić, I was under the spell. This was Christmas market central, with pretty chalets, a large stage, a glittering fountain and more enticing aromas. Even the trams were in on the act, with a festively decorated tram — driven by Father Christmas, naturally — clanging along and ringing its bells.
It was around the corner where I found my sarma man, and I had a huge cabbage roll for about £2.40. I'd have to find room later for kobasice, the sausage that's a staple food in the region. You can have spicy versions, or ones made from venison or wild boar, and they come with sauerkraut.
Nearby was Gajeva Street, where stalls sell food from Bosnia, Herzegovina, Dalmatia and Lika. I had to have a slice of Dalmatian soparnik: wafers of pastry filled with chard, olive oil and garlic. I was still in the Lower Town. I hadn't even reached the Upper Town yet.
The following day, I took the adorable funicular — at 66m, among the shortest in the world — and trundled up the 13th-century Lotrščak Tower, which still sets off a daily midday cannon blast as it has done since 1877. To my left, the Strossmayer Promenade was transformed from its usual tree-shaded hillside path to a place of enchantment. As multicoloured lights brightened the sky, I indulged in one of Croatia's top Christmas treats: fritule. These doughnut balls came smothered in chocolate syrup — great with walnut brandy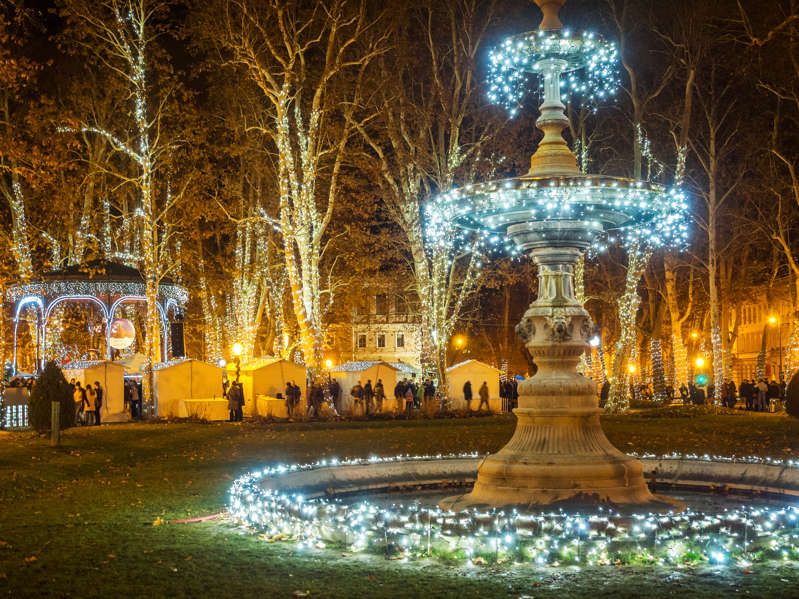 © Getty Adventmarkt in Zagreb

There was more magic on the eastern side of this hill-hugging path, where Caffe de Matoš had taken a bit of the Alps and given it a new home. Red-and-white vintage skis and boots hung from trees while stalls were selling craft gin, Istrian wine and octopus stew. This had a more sophisticated ambience, which carried on some steps to the next market, Klovićevi Dvori, set in an open space with views of Zagreb's cathedral.
While I was in the Upper Town, I popped into the Atelijer Meštrović, the former home of the Croatian sculptor Ivan Meštrović and the setting for many of his works. I also couldn't resist another look at the Museum of Broken Relationships, which had changed many exhibits since my last visit.
As I went from market to market, spellbound and lost in a Christmassy feeling I didn't know existed any more, I couldn't help but think of the inevitable post-festive hangover. Unusually for a Christmas market, this one goes on until January 6, which is when schools close for a week and everyone goes skiing. What a way to welcome the winter.
Source: Standard.co.uk