Whether or not Melania Trump is trolling her husband (or us) when she gets dressed is up for debate, but one thing is certain: whatever FLOTUS wears gets a reaction out of the general public. To date (and not without good reason), people have raged against her wearing a Zara jacket featuring the phrase "I REALLY DON'T CARE, DO U?" to visit migrant children in Texas, those 'storm stilettos ' during a visit to tour the damage that Houston incurred during Hurricane Harvey, and the white pantsuit (maybe?) thought to be a nod to Hillary Clinton and suffragettes. The latest item from Melania's wardrobe causing consternation: a pair of wheat-colored Timberland construction boots.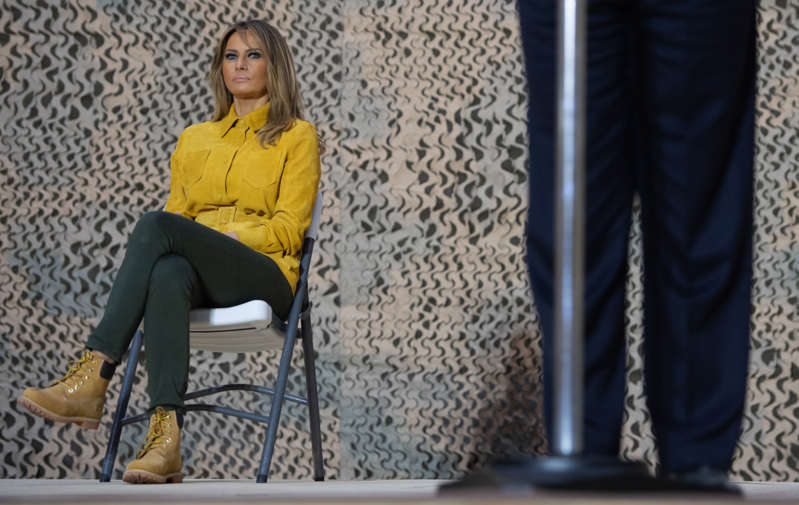 © Getty First Lady Melania Trump sits onstage as US President Donald Trump speaks to members of the US military during an unannounced trip to Al Asad Air Base in Iraq on December 26, 2018. – President Donald Trump arrived in Iraq on his first visit to US troops deployed in a war zone since his election two years ago (Photo by SAUL LOEB / AFP) (Photo credit should read SAUL LOEB/AFP/Getty Images)
On Wednesday, she accompanied her husband on a surprise Boxing Day visit to Iraq to meet with American troops stationed at Al Asad Air Base, wearing a suede mustard belted blouse and dark green pants with the boots for the occasion. As soon as photos hit the internet, Twitter users were quick to point out her choice of footwear. "I have never in my life seen anything stupider than Melania Trump in a pair of Timberland boots," @riverjordan19 tweeted, while @character1974 wrote "They ragged on poor Melania so bad about her choice in shoes as the first lady she is now rocking timbs lol construction ones at that! Lol."
Coincidently, the last time Melania Trump was photographed wearing her Timberland boots, she was in Puerto Rico to assess the damage done by Hurricane Harvey (she was criticised then, too). At the time, she left the White House wearing black cropped pants, a £1,049 Victoria Beckham navy blue wool turtleneck sweater, and matching pumps, but de-planed wearing a olive green jacket, aviator shades, a baseball hat, white skinny jeans, and the Timberland boots. She also has a black pair, too — it makes sense: the rugged shoes are practical for traversing almost any outdoor terrain, no matter what the weather.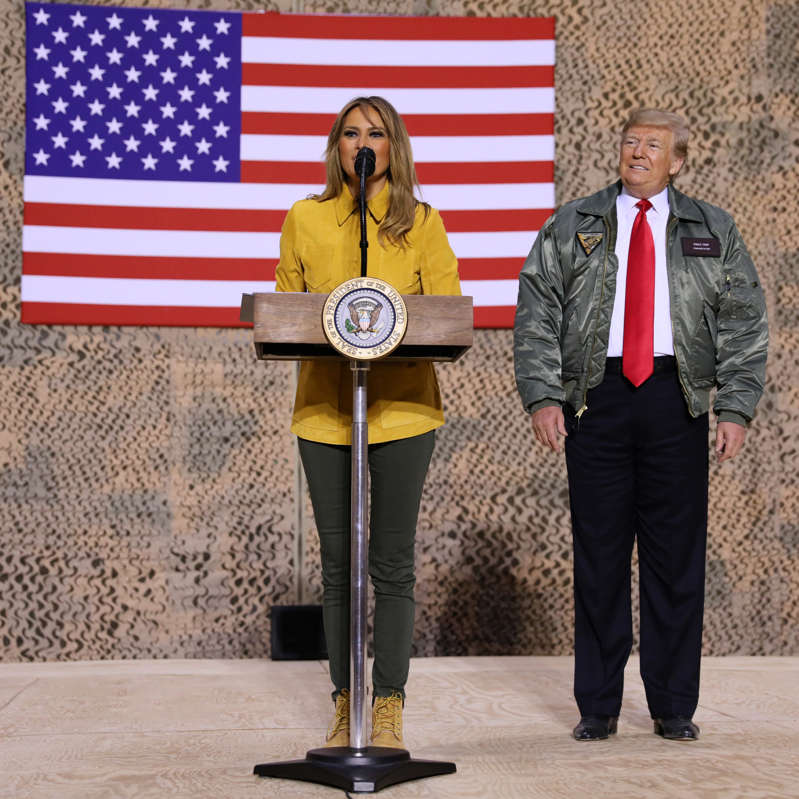 © Reuters U.S. first lady Melania Trump and President Donald Trump deliver remarks to U.S. troops in an unannounced visit to Al Asad Air Base, Iraq, December 26, 2018. REUTERS/Jonathan Ernst
That's why the outrage, in this particular case, doesn't make sense. What should she wear to an active combat zone, breaking FLOTUS protocol? Are critics implying that only people of a specific race or culture are allowed to wear this brand? What else should Melania have worn in a Middle Eastern desert among soldiers? The First Lady has worn several things that warrant a closer look, but her Timberland boots are arguably not one of them.
Source: Refinery29.com