Cabinet unity has been stretched to its limits as Theresa May prepares for another critical round of commons votes, with her ministers splitting over the prospect of a no-deal Brexit.
Justice secretary David Gauke said no deal would be "disastrous" and indicated he would quit his job if the PM took that route, but Brexiteer Andrea Leadsom insisted it was still on the cards.
On Tuesday Ms May will navigate a series of votes in parliament during which MPs will attempt to wrestle control of the Brexit process from her.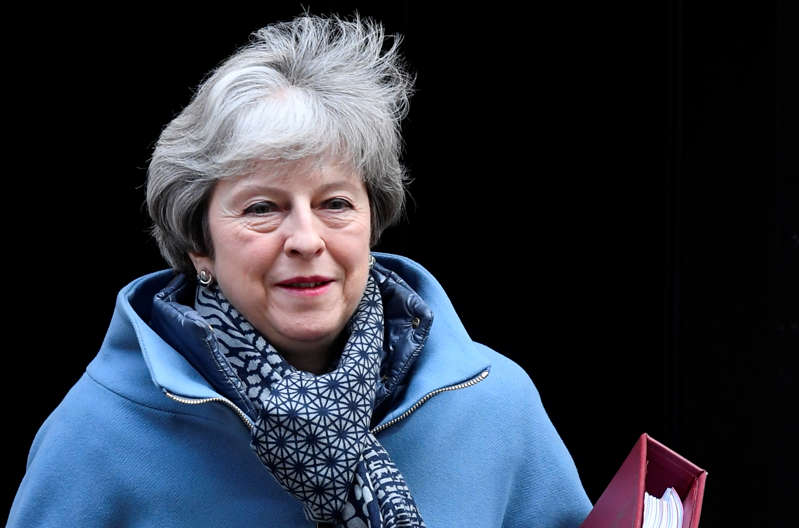 © Thomson Reuters Britain's Prime Minister Theresa May leaves Downing Street in London, Britain, January 23, 2019. REUTERS/Toby Melville
But on Saturday it appeared she may actually win a majority for a more supportive motion from a leading Conservative backbencher, which would see the party back her deal as long as the hated 'Irish backstop' is renegotiated.
Asked if he believed it would be "pretty disastrous" for the UK to leave the EU without a deal, Mr Gauke told the BBC: "Yes, I do."
He went on: "What I have said repeatedly is if there is a conscious choice 'right, that's it, we're going no deal' when there are other options available, that would be something I would find extremely difficult.
"And, given the requirements of collective responsibility, then, obviously, I'd have to consider my position."
Pressed on whether he backed MPs being given a free vote on extending Article 50 when alternatives to the government's Brexit plans are debated on Tuesday, Mr Gauke said: "I think there is a case for free votes in this area to resolve things."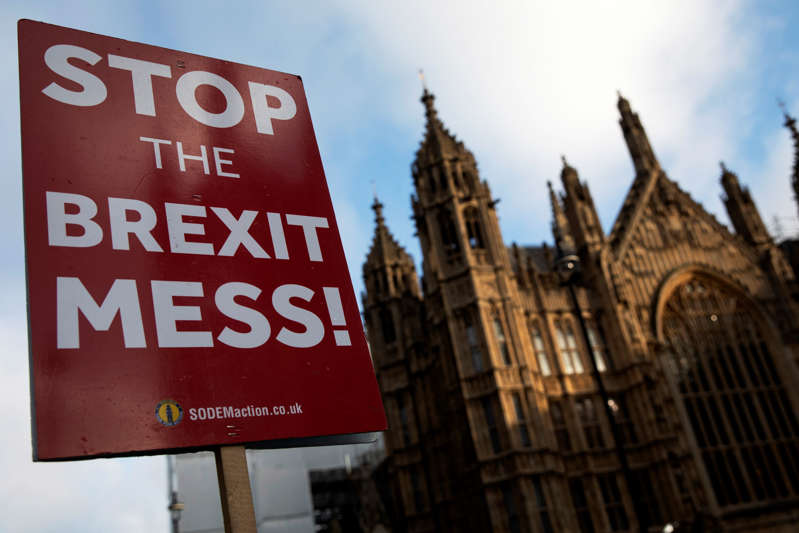 © 2019 Getty Images LONDON, ENGLAND – JANUARY 23: Anti Brexit placards outside the Houses of Parliament on January 23, 2019 in London, England. There are reports that MPs are proposing alternative plans to the Prime Ministers existing Brexit deal, including a possible extension to the exit date, currently scheduled for 29 March. (Photo by Dan Kitwood/Getty Images)
Chancellor Philip Hammond also declined to rule out quitting his post if the UK goes through with a no-deal Brexit.
Mr Hammond said it would cause "significant" disruption and damage to the economy, and that it went against what Leave voters had been told before the 2016 referendum.
But commons leader Ms Leadsom stressed the need for cabinet unity behind Ms May's stated position on a no-deal Brexit, while speaking on BBC2's Newsnight.
She said: "I'm totally aligned to the prime minister. I believe that is where collective responsibility should lie.
"So number one, the legal default is we leave the EU on March 29 without a deal unless there is a deal is in place.
"That hasn't changed. That is the prime minister's view and that's my view."
Proposals likely to be put to a vote on Tuesday include one that would extend Article 50 and one to give parliament power over the commons schedule instead of the executive, while another aiming for a second referendum was dropped due to a lack of support.
There appeared to be hope for Ms May to receive backing from rebels and her DUP partners in government under an amendment tabled by Sir Graham Brady, that would approve the deal she has negotiated with Brussels as long as the Irish backstop was replaced.
Source: Independent.co.uk