Each year the iconic island of Capri attracts tourists in their hordes. It's not hard to see why, of course. Idyllic scenery, spectacular coastline, and designer shopping are just some of the draws which make it a playground for the rich and famous.
But those looking for something a bit less flash and affordable should look to nearby Ischia, another island in the Bay of Naples that gets less airtime.
© Provided by Independent Digital News & Media Limited Mount Epomeo (Courtesy of Ischia Review)You'd be forgiven for not having heard of Ischia. Relaxed, yet seductive, the volcanic island is home to over 100 thermal springs that have countless healing properties and make it a popular wellness destination for the lucky few in the know. That, combined with its stunning selection of sandy beaches and dramatic historic sites make it the perfect place to reset your mind, body and soul.

You'll feel as though you've found yourself a slice of undiscovered paradise – at least among Brits.
Though you'd better make the trip soon, word is slowly getting out about the magic of Ischia, thanks in part to the recent HBO series My Brilliant Friend, based on Elena Ferrante's best-selling novel in which it features. 
How to get there
Catch the boat from Naples. There's a high speed ferry that takes about an hour and slow ferry that takes an hour and a half. If you're eager to arrive early on the first day of your holiday, take the longer crossing on the way back, the stunning views across the Tyrrhenian Sea, are worth the extra 30 minutes, best enjoyed from the top deck. You'll also catch a glimpse of the colourful harbour of Procida, the bay's smallest island.
© Provided by Independent Digital News & Media Limited Ischia Porto (Courtesy of Ischia Review)
Getting around
There's no need to hire a car in Ischia, hurrah! The island is very well served by buses that run frequently and into the early hours.
Once you've got your tan up to an acceptable local standard, pack a picnic and hire a boat to explore the magical island for yourself. At the main port, a day's hire starts at around €100, plus fuel. The endless 'gram opportunities will make it totally worth it.
© Provided by Independent Digital News & Media Limited Maronti Beach (Courtesy of Ischia Review)
What to see
There's a surprising amount to do on this tiny island and it's easy to combine visiting some of the island's best beaches with indulging in a spot of self-care at one of its natural spas.
Head to Maronti Beach (above) for dazzling turquoise water. At 3km long, it's one of the largest beaches on the island, from there you can admire views of Sant'Angelo, a picturesque fishing village, to your right, while the Cavascura thermal baths, Ischia's oldest, are set back around 300m in a cliff. Wander up through the gorge until you can hear the trickling sound of the springs. A standard spa entrance will cost you €15 and consists of a hot natural shower and sauna – honestly nicer than you'd expect in 30 degree heat – followed by 20 minutes in a preserved roman bath of your very own.
Treatments from massage to mud masks and lymphatic drainage are available for an additional cost.
© Provided by Independent Digital News & Media Limited Sant'Angelo (Courtesy of Ischia Review)
Once you're feeling rejuvenated head back towards the beach and catch a water taxi to the small harbour at Sant'Angelo. Settle down for drinks at the waterfront, which overlooks the rock that's connected with a thin strip of beach. The pretty pastel-painted houses make this undoubtedly one of the prettiest spots of the isle. La Taverna del Pirata, the first restaurant you'll stumble upon as you disembark makes for a good pit-stop, they're very generous with the free bar snacks.
If you're getting bored of beach days and hot springs – we didn't – then there are mountains to be climbed and botanical gardens to be explored. Wake early and do the one-hour trek up to Monte Eponeo, the highest point in the island, then stop for lunch at La Grotta da Fiore.
Head to the botanical gardens of La Mortella for your flora e fauna fill and. If classical music is your thing, the garden hosts open-air concerts performed by youth orchestras every Thursday during the summer months (tickets cost €20) (£17.50).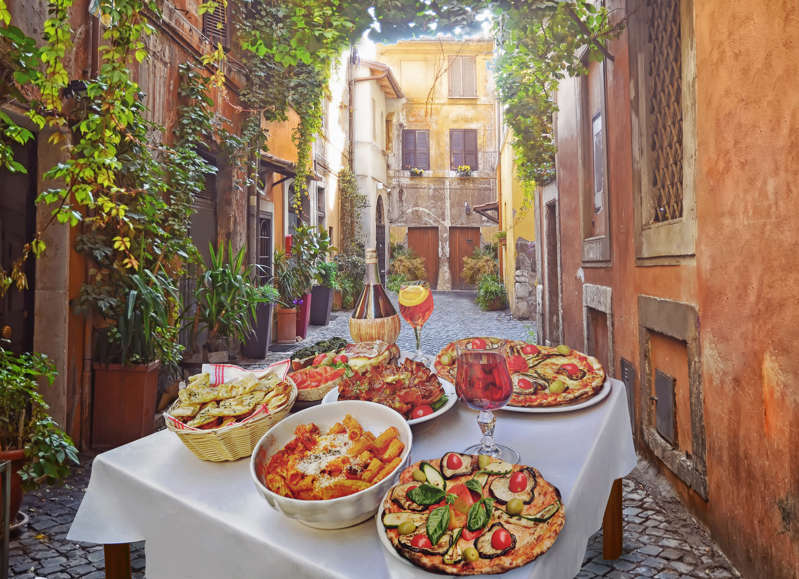 © Getty
Food & Drink
Fancy trying the local dish of rabbit? Of course. EVERYONE on the island will direct you to Bracconiere, located 480m above sea level in Serrara Fontana. It's a bit awkward to get to and will involve taxis rides, but worth it. Call in advance.
Ischia Porto is particularly fun at the weekends when it fills up with boats, some rather impressive. And don't forget your gladrags. While Ischia is considered lower key than its glamorous neighbour, the holidaying Neapolitans still dress to impress here. Soak up the last of the day's sun over a cocktail or two at Cappuccino bar, the friendly owner Gianni will give you all the snacks and recos you could ask for as you watch the boats moor up for the day.
There are plenty of restaurants to choose from, though the squid ink pasta at Ristorante I Ricci deserves a special mention.
Continue on to Via Roma which is abuzz until late for more bars and a spot of shopping and gelato. Locals will tell you to stop at Ristorante Pizzeria da Umberto, for no frills good pizza and pasta and friendly service. Keep wandering until you reach the fairytale-like Aragonese Castle, the standout site of Ischia.
© Provided by Independent Digital News & Media Limited Chiesa del Soccorso, Forio (Courtesy of Ischia Review)
Not forgetting Forio, on the west of the island. Explore some of its stunning beaches like Citara and Chiaia, before heading for sundowners and admiring the insanely beautiful burning sunsets of brilliant pinks and oranges.
Where to stay
The Pagoda Hotel, minutes from Ischia Porto, makes for a good mid-range option and a perfect base for exploring the island.
With its own private rocky beach, pool, hot tubs and quality onsite restaurant, it definitely deserves more than its three-star rating. Rooms start at £140 per night. Visit the hotel'swebsite for more info.
Source: Standard.co.uk