On the corner of Crown Street and John Street in the Hudson Valley town of Kingston, the calendar is stuck around the late 1600s. Hawthorn branches sway in the breeze, in sync with an American flag on an iron pole. Painted shutters creak against ragged bluestone walls. Two gas lamps flicker beneath a clapboard Dutch gable. A couple saunters by, he with a full black beard, she in a long dress, hair tied in a high bun.
Hipster or historic? You could ask that about a lot of places — old iron-gated neighbourhoods, where young people are asked to embrace analogue pastimes. But Kingston is a different sort of anachronism. A two-hour drive up the Hudson River from Manhattan, it encapsulates America's old and new in one walkable package. Consider that in the entire US, the junction of Crown and John is the only street corner where all four buildings are original to the spot, and pre-Revolution to boot.
And yet who's moving in? An incubator for tech start-ups recently launched in a former limousine garage and Chicago chef Chris Turgeon opened Wilde Beest, using ingredients such as "tom-aisins" and "Thomas Hardy". Next door at a café called Outdated you can order cornmeal pancakes or a vegan tempeh club sandwich and add chlorophyll to your hand-pressed juice.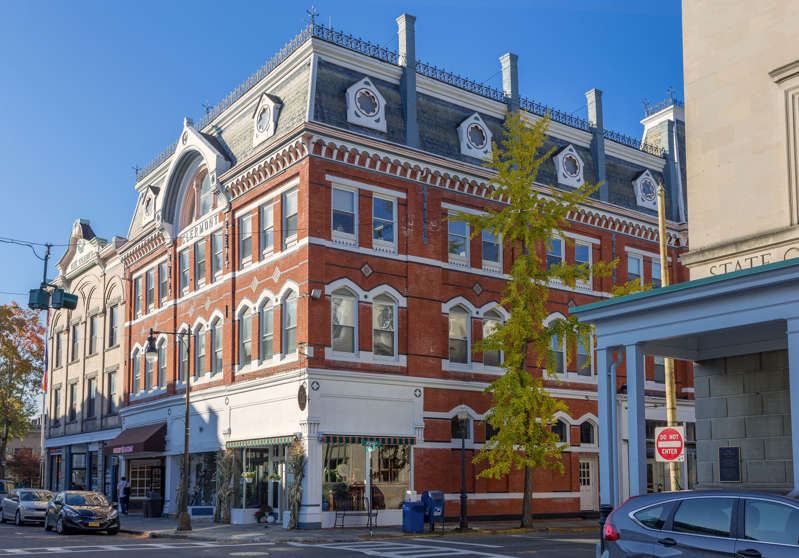 © Getty Getty
In some Western cities, "simpler times" is a trend we've returned to — in Kingston it has never gone out of fashion. Behind the sherbet-painted colonnades of the uptown Stockade District, the original site of a 17th-century Dutch settlement, you can buy sweets from apothecary jars, ice cream cycled in from a nearby dairy, sourdough baked from ancient grains.
But you can also flip through vinyl (vintage in its own way) or watch Evan Dando (ditto) play at the Old Dutch Church. When the New York street artist Gaia visited in 2015 he painted a flamboyant postmodern version of a Dutch still life on the side of Fair Street's tallest building.
The 20th-century quest for "urban renewal", when Victorian developments were bulldozed for motorways, didn't bring much new industry to Kingston. But nor did it destroy its allure. Three of the state's oldest buildings hover around the Stockade District. From the 1665 Louw-Bogardus house in Frog Alley, you can follow North Front Street to Fair Street for the 1676 senate house, the low stone cabin New York's first governor moved into when Kingston was named the state capital during the Revolutionary War.
© Provided by Independent Digital News & Media Limited The Rondout lighthouse in the middle of the Hudson river (Alamy Stock Photo)
In 1777, British forces burned Kingston to the ground. Residents rebuilt it stone by stone, but it was too late. The governor had decamped to Albany. When new railways stole traffic from the river, the area lost more power. That might have been its saving grace. Untarnished by hard manufacturing, the streets around the senate house never lost their elegant aura of lives well-lived. Today white-pillared doors with fanlights open onto yoga studios. Antiques shops nestle into tall Victorian manors on sprawling green lawns.
Kingston lingers in that spot between smalltown America and bloggers' hotspot. At a boutique selling nostalgic men's fashion, owner Clark Chaine says opening a shop here makes sense. "If you're coming via the Hudson Valley you have to pass through Kingston. It's a major crossroads," he says. Not to mention that you might see area homeowners Iman or Daniel Craig poking about the farmer's market. People liken Kingston to Brooklyn all the time, says Chaine: "It reminds them of Fort Greene, or Carroll Gardens."
© Provided by Independent Digital News & Media Limited The Old Dutch Church (Alamy Stock Photo)
Big Apple North? Not quite — at least, not yet. Though hoteliers have started snapping up derelict colonial real estate, few have done much with it. Neil Bender, the so-called King of Greenwich Village, purchased the school-district headquarters and the old Woolworth building. Both properties still languish in development purgatory.
For now, big draws for visitors include the Old Dutch Church, which locals call "the cathedral". The magnificent bluestone structure flaunts a piercing steeple that was once the tallest in New York State. And its interior mimics the towering vaults and meticulous symmetry of Christopher Wren, with the added bonus of Louis Comfort Tiffany windows.
Then, of course, there's the waterfront. Follow Broadway across town until the boulevard narrows and you'll reach the confluence of Rondout Creek and the Hudson River, where pleasure boats tether up on the bank and an old steamboat warehouse houses a quaint maritime museum.
© Provided by Independent Digital News & Media Limited Henry Sleight House, headquarters of the Daughters of the American Revolution (Getty Images)
From the boardwalk, you might watch the Rip Van Winkle riverboat sail past a century-old lighthouse visited by egrets. Or dodge hundreds of tourists, heading to the weekend food market at the Hutton Brickyards.
Or you could simply pull up a bistro chair outside the pink facade of the wine bar Brunette and let Jamie Kennard, a transplant from Queens, recommend his finest herbicide-free Beaujolais.
You'll find his wines are mostly European — but here in the Hudson Valley, watching the sun sink behind the mansard roofs of Broadway, it just hits the spot.
Source: Standard.co.uk