An explosion Thursday afternoon at a chemical plant in eastern China killed at least 47 people, the state media said Friday morning.
The blast, in Xiangshui County in Jiangsu Province, sent a fireball and thick plumes of black smoke into the air and raised concerns about chemical contamination in the area. The China Earthquake Administration reported a magnitude-2.2 earthquake at 2:48 p.m. that was believed to have been caused by the explosion.
In addition to the 47 killed, at least 90 people were seriously injured in the explosion at the Jiangsu Tianjiayi Chemical Company, CCTV, the state broadcaster, reported Friday. Videos circulating online showed people who appeared to have been cut by glass and other debris.
One resident who lives about 6 miles from the plant said the explosion had awakened him from an afternoon nap. "The road is filled with injured people," the resident, who would only give his surname, Chen, said Thursday afternoon.
© Reuters Smoke billowing from fires after an explosion on Thursday at a chemical industrial park in Xiangshui County, Yancheng, Jiangsu Province, China."Glass doors and windows have all been shaken out and the poorer houses are so damaged they are uninhabitable," he said. "The old people and children in my family have all been cut by glass shards."
Some residents are fleeing out of fear that the air could be toxic, he said.
Officials have not disclosed a cause of the blast, but one worker told Caixin, a Chinese business news outlet, that a tanker truck carrying natural gas had caught fire, setting off an explosion in a benzene storage area.
Rescuers told about 3,000 workers and close to 1,000 residents to evacuate the area on Thursday.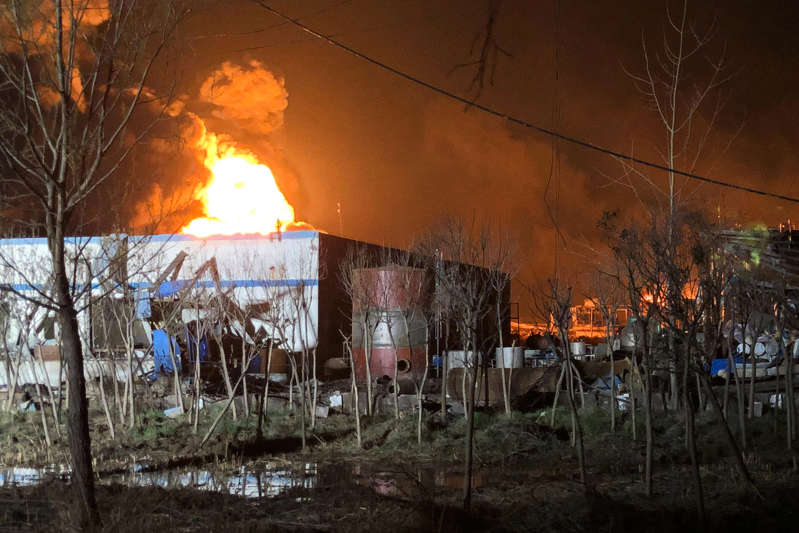 This photo taken on March 21, 2019 shows fire and smoke rising following an explosion at a chemical plant in Yancheng in China's eastern Jiangsu province. – The death toll from a huge explosion at a chemical plant in eastern China surged to 44 on March 22, making it one of the country's worst industrial accidents in recent years. (Photo by STR / AFP) / China OUT (Photo credit should read STR/AFP/Getty Images)
The plant mainly produces pesticides, according to online listings. The State Administration of Work Safety listed 13 safety problems at the plant after an inspection last year, including a lack of safety training among management.
Concerns about chemical plants in the area run deep. In 2007, a blast at a chemical plant killed seven people. In 2011, rumors that gas leaking from a plant in Xiangshui County could explode circulated among residents, causing thousands to flee. Four people were killed in a traffic accident during the late night panic.
Jiangsu is by far the Chinese province with the greatest production of agricultural chemicals. Over the past year, it has also been at the center of a controversy over how China should regulate the production of chemicals.
Jiangsu Province, with some support from Beijing, has pressed for each chemical factory to reduce its pollution by a significant percentage. That would allow some small, local companies with extremely high levels of pollution to install more modern equipment. But it would tend to penalize multinational corporations that put identical, fairly clean factories all over the world and would face high investment costs to try to reduce their emissions much further.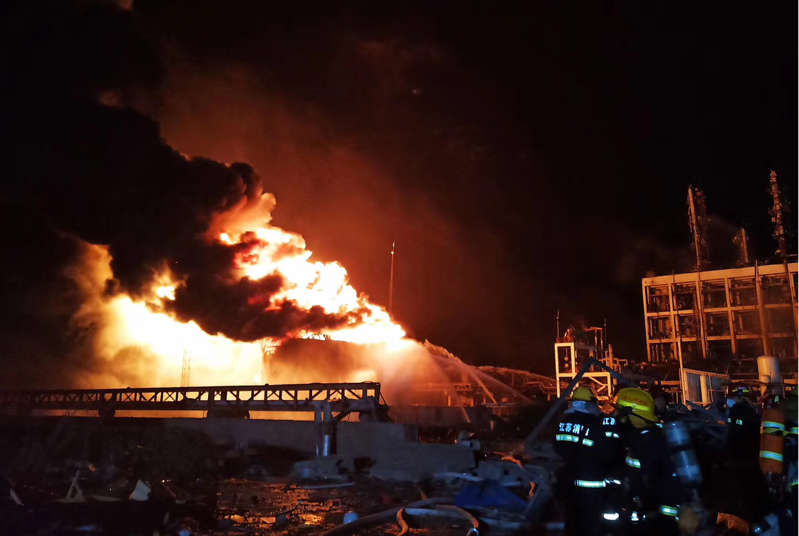 © 2019 VCG YANCHENG, CHINA – MARCH 21: Firefighters put out the blaze at the explosion site of a chemical factory on March 21, 2019 in Yancheng, Jiangsu Province of China. Death toll climbs to 44 after an explosion happened at an industrial park in Yancheng at around 2:48 p.m. on Thursday. (Photo by VCG/VCG via Getty Images)Environmentalists and large companies have tended to favor the setting of low levels of maximum pollution that no factory would be allowed to exceed. But that approach could put older, local factories at a significant disadvantage.
China has seen a series of large explosions at chemical plants in recent years. Blasts in the northeastern city of Tianjin in 2015 killed 173 people, a disaster that was blamed on weak regulations and haphazard management of explosive materials.
At least 23 people were killed in an explosion near a chemical plant in Hebei Province last year.
Source: Nytimes.com