Jeremy Corbyn has claimed negotiations aimed at breaking the Brexit impasse are challenging to sustain with a "collapsing" government, as he delivered a withering critique of the prime minister's approach.
With talks between Theresa May's government and Labour officials set to enter a third week, the Labour leader said it was "scandalous" the offer to find a compromise came "so late" in the Brexit process.
© Provided by Independent Digital News & Media LimitedAddressing delegates gathered at the Welsh Labour conference on Saturday, Mr Corbyn described the ongoing discussions as "serious and constructive", but added: "We must see those red lines moving and we must see real compromise."
His remarks came as his close ally John McDonnell, the shadow chancellor, emerged from the Cabinet Office on Friday, saying more work will "go on over the next week to 10 days and then we'll see where we're at".
During his speech in Llandudno today, the Labour leader told delegates: "I have to say, it is a challenge to negotiate with a government that's collapsing – when you can't be sure if commitments made by the prime minister will survive the week and when cabinet collective responsibility has given way to collective irresponsibility, with ministers contradicting each other on the airwaves."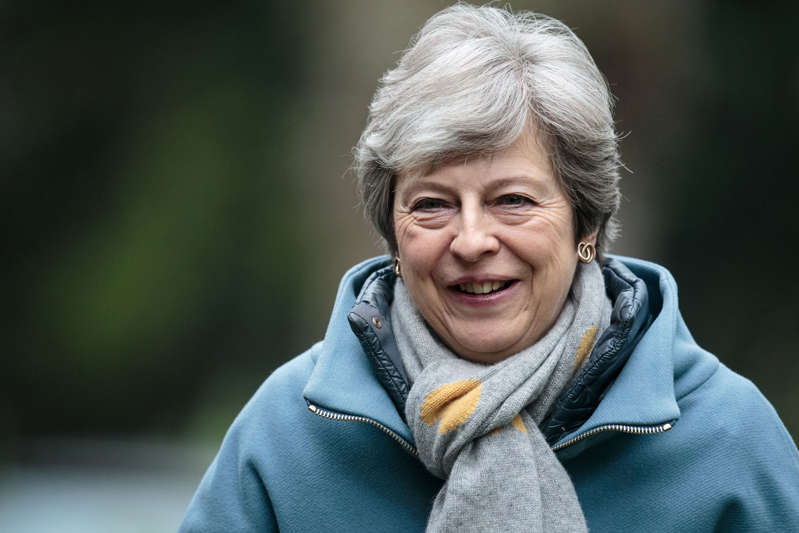 © 2019 Getty Images AYLESBURY, ENGLAND – APRIL 07: British Prime Minister Theresa May arrives for a Sunday church service on April 7, 2019 in Aylesbury, England. Mrs May has been criticised by some members of the Conservative party for reaching out to Labour leader Jeremy Corbyn in an attempt to deliver Brexit. (Photo by Jack Taylor/Getty Images)Referring to the decision of the emergency European Council summit to once again delay the Brexit process – pushing the negotiating deadline to 31 October – Mr Corbyn said the prime minister had to agree it as "a result of her failure".
"Just three weeks ago she said she wasn't prepared to delay Brexit beyond the 30 June. But now we're holding European elections, not knowing whether MEPs will take their seats or for how long. It's extraordinary," he said.
"We cannot remain stuck in this loop for another six months. I urge the prime minister not to see this extension as another chance to flog her dead deal."
Mr Corbyn added in his speech: "When the prime minister announced that she wanted to speak to me to find a Brexit compromise, of course I agreed.
"I didn't have any advance notice of her invitation, by the way. I found out when I heard it on TV, like everyone else.
© Thomson Reuters Pro-Brexit and anti-Brexit protesters hold posters and flags in Whitehall, in central London, Britain December 6, 2018. REUTERS/ Toby Melville"It's scandalous that it came so late in the Brexit process, not at the 11th hour, not even at five to midnight, but at five past midnight after she missed her own deadline of 29 March.
"Nevertheless, we're engaging in the talks in a serious and constructive way. But we must see those red lines moving and we must see real compromise."
During his address the Labour leader also referred to the Westminster political system as "another world", as he criticised the "alien language" and arcane procedure.
"When the focus of our national conversation is dominated by baffling procedures in parliament and when nothing seems to change, I understands why people feel frustrated," he said.
"People watch the back and forth in parliament. They see the arcane procedure and hear the alien language. It's another world. For me that's not what real politics is about."
Source: Independent.co.uk