When I first pondered booking a family trip during what travel boffs dub the "shoulder season" — February, March, October and November, when you can't expect proper warmth without going long haul — I'd considered the usual suspects: Canaries, Cyprus, Cape Verde. But there, if the weather doesn't play ball, you're left with little to do. UK hotels are geared up for cold and rain, and luxury costs less out of season. So we packed jumpers, and puddle suits for the kids, and flew to Edinburgh.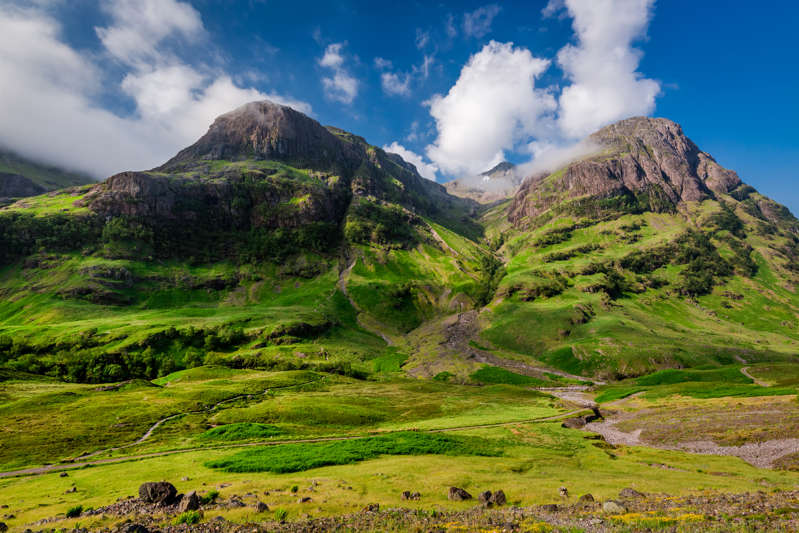 © Getty Mountains of Glencoe at sunrise in summer, ScotlandThe first stop was Gleneagles, an hour's drive to an estate that calls itself a "glorious playground". For once, such brochure bragging was right. We went from check-in to the hotel's "snug" — and took part in activities that felt more exciting than lazing on the beach.
There was clay-pigeon shooting, then a bracing walk across fields to a session in the outdoor hot tub, before laps of two huge pools. There was Gleneagles' falconry HQ, where harris hawks, peregrine falcons and golden eagles beadily analysed us for our viability as lunch. Our guide swiftly had a hawk gliding around a field to my beaming, not yet two-year-old's glove.
We hired bikes which, like everything at the re-sort, were immaculate (until we squelched through puddles on them). We had facials and massages; the pools and courtyard loungers of the hotel spa could justify a trip of their own. Gleneagles also has tennis, off-road driving, archery, fishing, zip wiring and photography lessons — and that's on top of its three famous golf courses. If such a hotel were near London it would be flashy. Here, though, guests and staff were über-friendly. When our kids whined while waiting for lunch at the Dormy restaurant, a waiter took them to see the tandoor and whipped up some naan bread. The food was stellar: pad thai sweet potato chips; tandoori steak. Breakfast was a perfect buffet, from the Bloody Mary bar to umpteen smoked salmons and a variety of muffins.
But our trip wasn't over. From tiny Victorian Gleneagles station we took three trains to Penrith in the Lake District, checking into Ullswater's Another Place, a new hotel from the owner of Cornwall's Watergate Bay. Here the vibe is less family-focused (although children are made welcome with a brilliant kids' club and 5pm buffet supper) and all about exploring. Another Place is set up like a ski resort: go out all day and return to the cosy library hearth, or to Swim Club with its beautiful infinity-style pool. It looks out onto verdant hills and Ullswater rather than an azure sea.
A tie-up with fashion brand Joules means piles of wellies in the hall (you'll need them: one walk took us into fields so deep with mud, as well as angry-looking sheep, I wondered if we'd get out).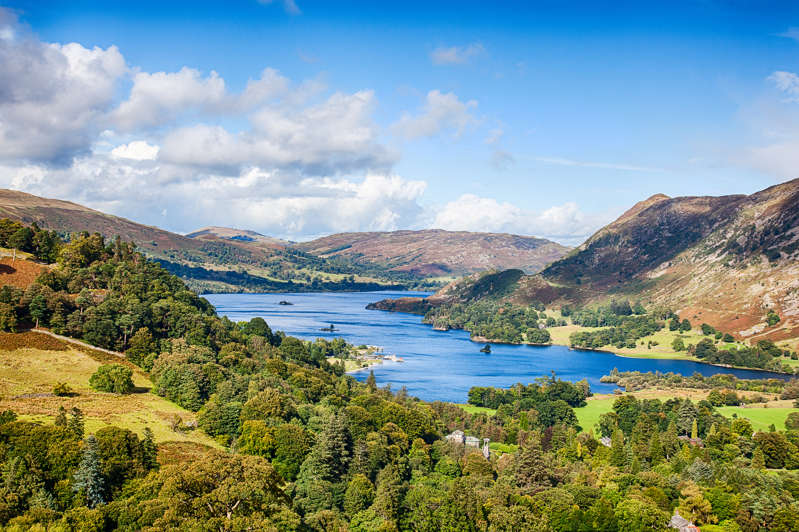 © Getty Ullswater from Above Patterdale on an Autumn dayThe food was great, especially at the Rumpsbeck restaurant — £40 for three courses started with harissa caramel popcorn before wild mushroom fricassee and roast lamb, Jenga macaroni cheese and bitter chocolate fondant. We had a fantastic day at Lowther Castle, a majestic ruined pile that once had a room for every day of the year. We rented e-bikes and had Lowther's adventure playground all to ourselves — it's full all summer long. That was true of everywhere we explored in the Lakes and Perthshire. It was far more fun-filled than flopping on a beach. Just make sure you pack some woolly jumpers.
Details: Perthshire and the Lake District
Rooms at Gleneagles start at £390 a night B&B (gleneagles.com). Rooms at Another Place start from £180 a night B&B (another.place). Train fares to Edinburgh from £26.50 one way.
Source: Standard.co.uk