Nigel Farage has demanded a seat on Britain's Brussels negotiating team for the Brexit Party after it pulled off a major victory in the European elections on Sunday night.
The new group won the British part of the elections by far, with at least 28 seats – surpassing the former success of Ukip which had won the 2014 elections under Mr Farage's leadership.
The Brexit Party took 32 per cent of the national vote share and topped the poll in nine of the 10 regions declared. Claiming a "big win", Mr Farage told reporters as the results rolled in: "We've got a deadline for 31 October, that's the date on which we're supposed to leave the European Union.
"That's in five months' time. What we're saying is we've got a mandate now, we demand to be part of that negotiating team, to get this country ready to leave whatever the circumstances.
"Firstly we're going to be in Brussels, secondly we've got some very high calibre businessmen and businesswomen used to putting deals together – we've got to get on with this!"
After Theresa May announced her resignation on Friday, Tory leadership contenders were quick to suggest they might return to Brussels to try and negotiate a better Brexit deal.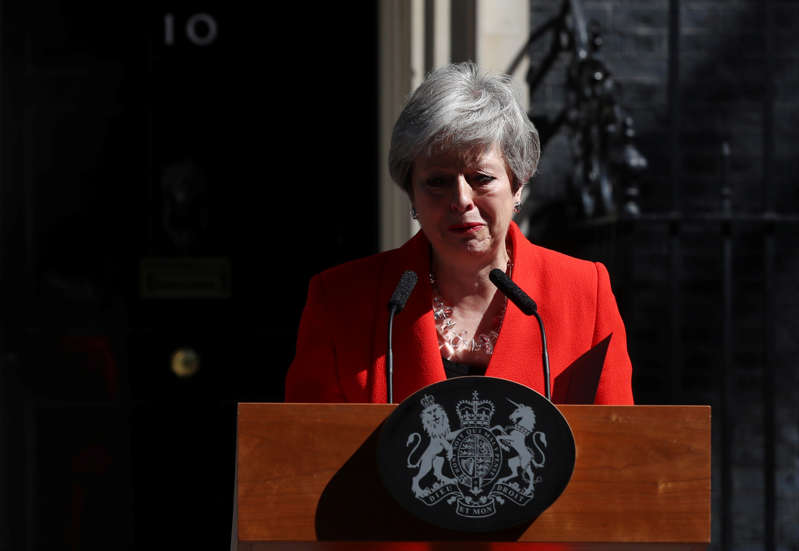 © Thomson Reuters British Prime Minister Theresa May reacts as she delivers a statement in London, Britain, May 24, 2019. REUTERS/Simon Dawson

But the EU is very unlikely to renegotiate the withdrawal agreement, which it says is the only deal possible with the UK. Brexiteers are unhappy with aspects of the proposed treaty, including the controversial Northern Irish backstop, which would likely keep the UK tied to EU customs rules indefinitely.
The EU has said it would be happy to renegotiate a different future relationship with the UK, but that the withdrawal agreement – which other than Northern Ireland also governs issues like the divorce bill and citizens' rights, is not up for discussion.
The prime minister has tried and failed to get the deal approved by parliament three times. A fourth abortive attempt ultimately resulted in her resignation.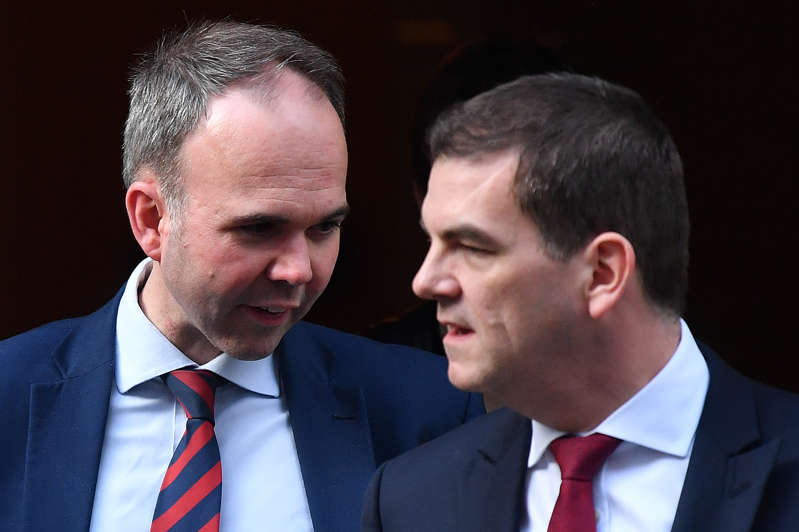 Number 10 Chief of Staff Gavin Barwell (L) and Oliver 'Olly' Robbins, the Prime Minister Theresa May's Europe Adviser, leave from 10 Downing Street in London on March 14, 2019, ahead of a further Brexit vote. – British MPs will vote today on whether to ask the European Union for an extension to the March 29 Brexit deadline, with the whole process mired in chaos. (Photo by Ben STANSALL / AFP) (Photo credit should read BEN STANSALL/AFP/Getty Images)
Some Brexiteers have criticised the UK negotiating team itself, pointing the finger at Theresa May's chief negotiator Olly Robbins, who they accuse of secretly working to stay in the EU.
But Brexiteers such as David Davis and Dominic Raab have also played a key role in talks and been met with much the same reception in Brussels.
Speaking as the results rolled in on Sunday night, Mr Farage said: "[It's been a] big win for the Brexit Party, that's very clear, terrible night for the Conservative party – but look at Labour as well – look at what the Brexit party's done to Labour in Wales, in the North East of England. This is a big, big message, a bit wake-up call to Westminster – will they listen?"
The Conservative party was reduced to a single-figure vote share and posted its worst national result in its history, slipping to fifth behind the Green party. Labour came in third behind the Brexit party and Lib Dems.
Source: Independent.co.uk