Jeremy Corbyn has come under increasing pressure to secure a clear Brexit position for Labour as a new opinion poll showed the party has slipped into fourth place.
The party is backed by just 18 per cent of voters, two points down on a week ago, according to a YouGov survey for The Times. The Tories climbed two points to stand at 24 per cent while the Brexit Party is on 23 per cent and the Lib Dems have 20 per cent.
With Labour leader Mr Corbyn's stance on the UK's exit from the EU under intense scrutiny, the survey found that only 25 per cent of Remain backers now intend to support the party.
This compares with 48 per cent of Remainers who said they would vote for the party at the beginning of the year, and 40 per cent who gave it their backing at the end of April.
Just 8 per cent of Leave supporters said they will vote Labour, compared with 21 per cent in January, according to the poll.
The results come after Ipsos MORI research for the Standard revealed Mr Corbyn is also being beaten by the Brexit Party's Nigel Farage on several leadership measures.
The Labour leader's scores for being a capable leader, having good judgment and being someone people would turn to in a crisis have slumped over the past year, according to Ipsos MORI research for the Standard.
© Provided by Independent Digital News & Media Limited Mr Corbyn, pictured leaving his home in London, has been criticised for not securing a position for the party on Brexit (REUTERS)
The crash will deeply alarm Labour MPs who have been told to get ready in case of an early election. The rise of Mr Farage raises the prospect of Labour being squeezed in Leave-voting heartlands
Jeremy Corbyn: Write Labour off at your peril
Mr Corbyn was last month warned by the party's deputy leader that Labour risks becoming "electoral history" unless it campaigns to reverse Brexit in another referendum.
Tom Watson issued the stark warning after a shadow cabinet meeting failed to secure a shift in position on the UK's exit from the EU.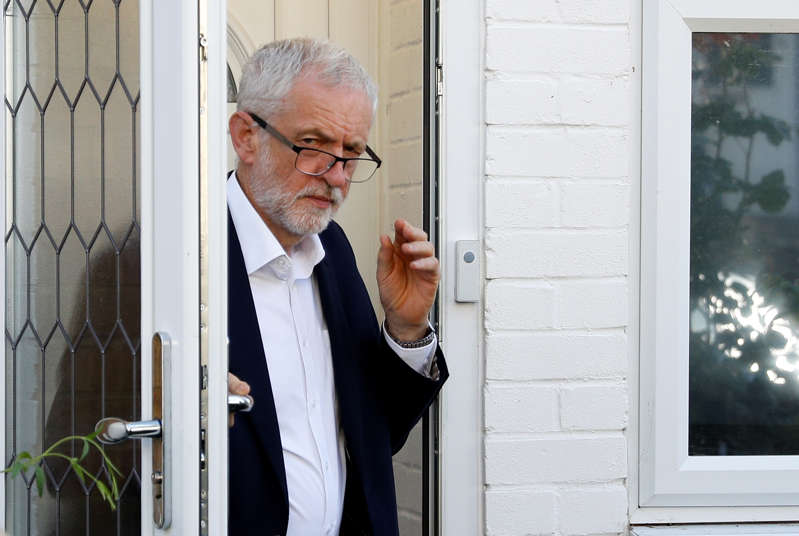 © Thomson Reuters Britain's opposition Labour Party leader Jeremy Corbyn leaves his home in London, Britain July 3, 2019. REUTERS/Peter Nicholls
Labour leader Mr Corbyn had told the meeting a second vote ballot paper would need to contain "real choices" for both Leave and Remain voters. But Mr Watson suggested that without a "clear statement of intent" the future of the party would be thrown into doubt.
"If we do end up deciding we are going to campaign to remain in the EU it's history making. I think that's quite important because we could be electoral history if we don't make a clear statement of intent," he said.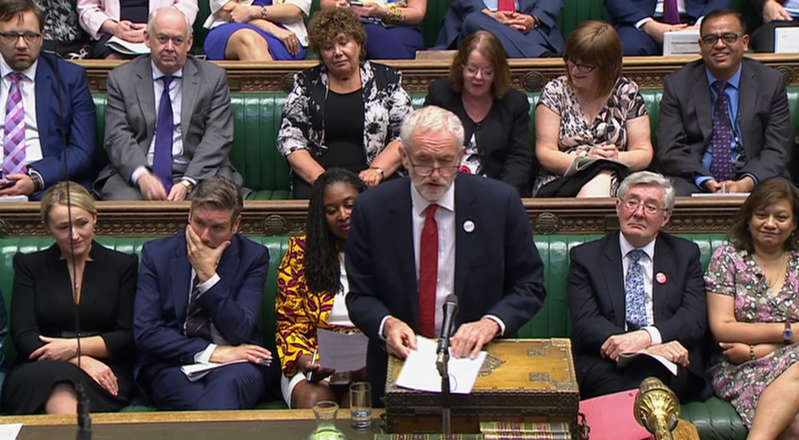 © PA Wire/PA Images Labour leader Jeremy Corbyn speaks during Prime Minister's Questions in the House of Commons, London. (Photo by House of Commons/PA Images via Getty Images)
"I think it is in the national interest that we become a pro-Remain, pro-reform party and we let the people have a final look at what any deal looks like."
Source: Standard.co.uk