CYPRUS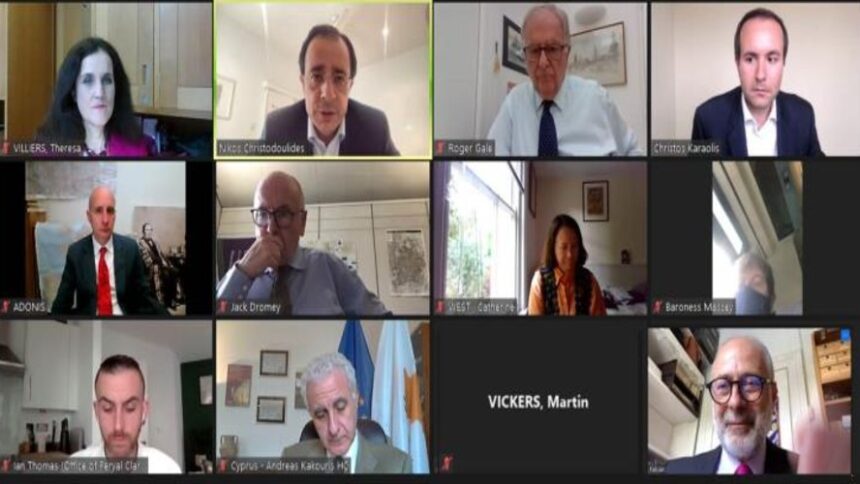 Foreign Minister Christodoulides updates the APPG for Cyprus on latest Cyprus issue developments
The Foreign Minister of Cyprus, Nikos Christodoulides, briefed Tuesday 18th May, the All-Party Parliamentary Group (APPG) for Cyprus on the latest political developments concerning the Cyprus issue. 
The virtual meeting was organised by the National Federation of Cypriots in the UK, the Secretariat for the APPG. The High Commissioner of the Republic of Cyprus to the UK, Andreas Kakouris, was also present.
The Foreign Minister's briefing focused on the recent informal meeting on the Cyprus issue that took place in Geneva at the end of April, under the auspices of the United Nations Secretary General, Antonio Guterres. The President of Cyprus, Nicos Anastasiades; the leader of the Turkish Cypriot community, Ersin Tatar; the Foreign Secretary of the UK, Dominic Raab; the Foreign Minister of Greece, Nikos Dendias, and the Foreign Minister of Turkey, Mevlut Cavusoglu all participated in the meeting in Geneva.
Speaking to the MPs, Foreign Minister Christodoulides expressed his disappointment that the informal meeting concluded without reaching enough common ground for formal negotiations to resume. He said that the Turkish Cypriot leader, Ersin Tatar, arrived at the meeting with the aim of advancing his aim to permanently partition Cyprus. Foreign Minister Christodoulides explained that the UN Secretary General made clear that such a discussion was outside of his mandate and would contradict previous UN Security Council resolutions on Cyprus.
Christodoulides told the MPs that, "there is no alternative to reunification" and that the vast majority of the people of Cyprus want a bi-zonal, bi-communal federal solution. This view was also shared by the Parliamentarians in attendance at the APPG meeting.
The Foreign Minister added that the international community also remains firmly of the view that a solution to the Cyprus issue must be based on the reunification of the island as a bi-zonal, bi-communal federation, in line with UN Security Council resolutions. To emphasise this, he pointed to clear public comments made by the US, Russian, China and France whilst the informal meeting was taking place in Geneva. He also noted Foreign Secretary Raab's interventions in Geneva in support of the UN Security Council resolutions.
Sir Roger Gale expressed the condolences of the whole APPG on the passing of the former Mayor or Morfou and close friend, Charalambous Pittas, and asked the Foreign Minister to relay the condolences to Pittas' family.
The MPs at the briefing were Sir Roger Gale MP (Con), Chair of the APPG; Lord Adonis (Lab), Vice-Chair; Baroness Massey of Darwen (Lab), Vice-Chair; Theresa Villiers MP (Con), Vice-Chair; Jack Dromey MP (Lab), Secretary; Catherine West MP (Lab), Shadow Minister for the European Neighbourhood and the Americas; Fabian Hamilton MP (Lab), Shadow Minister for Peace and Disarmament; Martin Vickers MP (Con). Feryal Clark MP (Lab), who is currently on maternity leave, was represented by her parliamentary staff. The MPs all had the opportunity to ask questions of the Foreign Minister and discuss the recent developments.
Source: Parikiaki.com