GREEKS ABROAD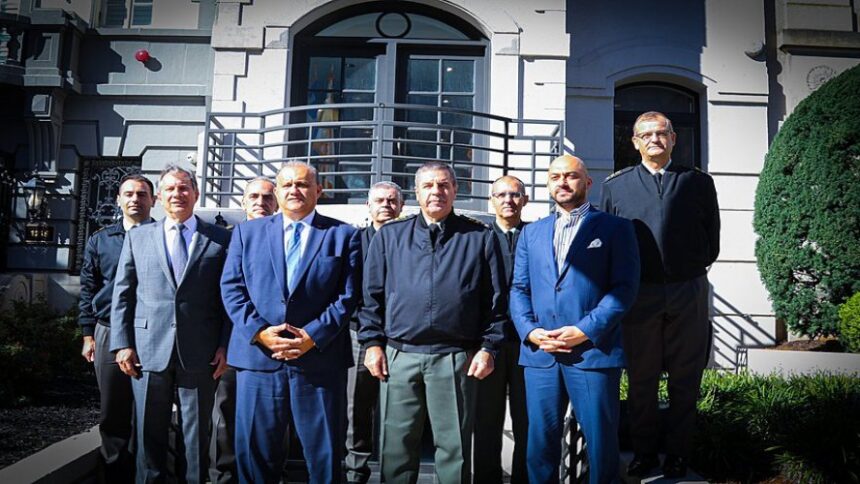 Hellenic Army Chief Visits Hellenic House
WASHINGTON, DC – The American Hellenic Institute (AHI) hosted Lieutenant General Charalampos Lalousis, chief of the Hellenic Army General Staff (HAGS), at Hellenic House on October 19.
"We were honored to welcome Lt. General Lalousis to Hellenic House," AHI President Nick Larigakis said. "We had a substantive dialogue concerning many subjects of mutual interest including Greece's military readiness, Greece's role in the Eastern Mediterranean region as well as Greece's diplomatic and military significance to the United States."
The National Herald A commemorative gift was presented at the meeting at Hellenic House, left to right: AHIF President Leon Andris, AHI President Nick Larigakis, Lieutenant General Charalampos Lalousis, and AHI Board Member Yianis Sianis. Photo: American Hellenic Institute
Lt. General Lalousis' visit to Washington, DC included meetings with his counterparts at the Department of Defense as well as a visit to West Point Academy.
Former Greek Defense Attaches of the Embassy of Greece in Washington, DC Colonel Vasileios Lampropoulos, Chief's Executive Office Staff and Brigadier General Panagiotis Kavidopoulos, Chief Executive Office Director as well as the current Defense Attache Colonel Panagiotis Vlachopoulos were in the meeting. Major General Christos Boufis, Director of the D' Division of HAGS participated in the meeting as well as Major Marinos Kazdaglis, Aid de Camp. AHIF President Leon Andris and AHI board member Yanni Sianis accompanied AHI President Larigakis during the meeting.
The National Herald Lieutenant General Charalampos Lalousis and AHI President Nick Larigakis during their meeting at Hellenic House in Washington, DC. Photo: American Hellenic Institute
More information is available online: ahiworld.org
Source: Thenationalherald.com