WORLD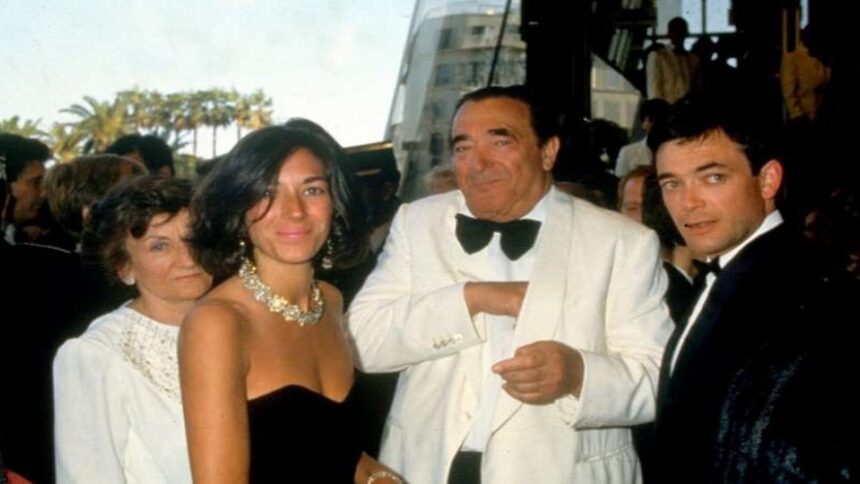 Ghislaine Maxwell's family brand US legal system 'cruel', and call for her release while she awaits trial
The family of Ghislaine Maxwell have broken their silence, insisting she is innocent while branding the US legal system "bizarre and cruel".
Ian Maxwell told The Telegraph that his sister is being subjected to "brutal and degrading" treatment and called for her release from jail while awaiting trial on child sex trafficking charges.
In an impassioned defence of his sister, Mr Maxwell, 64, said: "On evidence that can be shown to be false given just a little exploration and digging, Ghislaine has been accused of being a procurer and a heartless woman and far more besides. In fact, she is none of these things."
He urged that she be freed from prison.
Ms Maxwell, 59, a close friend of Prince Andrew, is languishing in a detention centre in Brooklyn after being arrested by the FBI last July. She is due to go on trial later this year for offences relating to her association with her one-time boyfriend Jeffrey Epstein, the financier and convicted paedophile, who committed suicide in a New York jail in 2019.
Ms Maxwell remains on round-the-clock suicide watch and applications for bail, that include a $28.5 million surety and a pledge to give up both her British and French citizenship, have so far been denied.
© Provided by The Telegraph Photo Must Be Credited ©Edward Lloyd/Alpha Press 080000 07/05/2019 Ian Maxwell at the Eleanor Berry Book Launch, My Unique Relationship with Robert Maxwell The Truth at Last, held at Sloane Square Hotel in London. – Edward Lloyd/Alpha Press
Mr Maxwell described his sister's treatment as a "disgrace to any civilised democracy".
He said her decision to renounce her French and British citizenships, in an attempt to persuade US authorities she is not a flight risk, had caused her "immense distress".
The Maxwell family launched a campaign they called Operation Get Ghislaine Out following her arrest last July at a secluded home she had bought in New Hampshire.
She is accused of helping Mr Epstein to groom and abuse girls as young as 14 between 1994 and 1997 when she was in an 'intimate relationship' with him.
She is also charged with perjury in relation to sworn testimony in 2016 that she had not trafficked Virginia Roberts Giuffre, an American woman who has claimed she was forced to sleep with Prince Andrew when she was aged 17. The allegation is vehemently denied by Prince Andrew.
© Provided by The Telegraph FILE PHOTO: Ghislaine Maxwell appears via video link during her arraignment hearing where she was denied bail for her role aiding Jeffrey Epstein to recruit and eventually abuse of minor girls, in Manhattan Federal Court, in the Manhattan borough of New York City, New York, U.S. July 14, 2020 in this courtroom sketch. – Jane Rosenberg/REUTERS
Mr Maxwell said: "To anyone familiar with the British system of law, the American system is simply bizarre, quite frankly, cruel. As you know my sister is held in the most appalling conditions and subjected to brutal and unusual treatment and yet she is a pre-trial detainee. This means she is innocent and she is entitled to the presumption of innocence."
He went on: "The sustained brutal, degrading – and wholly unnecessary – conditions of my sister's solitary imprisonment are a disgrace to any civilized democracy."
He said Ms Maxwell was being kept in a cell that measured just 6 feet by 9 feet that "includes a concrete bed and a toilet".
He added: "She has ten cameras trained on her, including one mobile camera, 24/7. Four guards observe her all the time and presumably another is looking at the camera feeds.
"She is not allowed in the corners of her cell; she is not allowed within 2.5 feet of the cell door. These conditions, which Ghislaine has now endured for close on 250 days, are depriving her of her health and critically the ability meaningfully to prepare her defence. This is simply wrong."
He said it was now "vital for her health and wellbeing" to get her out of jail, pointing out she has lost close to 20lbs in weight.
"Her hair is falling out and she is losing the ability to concentrate which is impairing the time she can devote to studying the two million pages of prosecution documentation," he said.
© Provided by The Telegraph Ghislaine Maxwell tucks into burger and fries at a fast-food joint in Los Angeles, in 2019. Ms Maxwell, 57, was the alleged 'madam' to the multi-millionaire paedophile Jeffrey Epstein. She is due to stand trial later this year – Mega Agency
Mr Maxwell, one of nine siblings, has been a key figure behind the scenes trying to secure his sister's release from jail. Mr Maxwell, along with his brother Kevin, rose to prominence in the 1990s when charged and acquitted with financial crimes linked to the collapsed business empire of their father Robert Maxwell, the media tycoon.
Mr Maxwell said: "Ghislaine, we the family, and her friends, have done everything we can to give the court assurance that she will stay in America if she is released on bail.
"She and we have all put everything at risk to support her and we have managed to pull together $28.5 million, a huge sum, especially when compared with others who have been released on bail for far lesser sums."
He said even a private security company that it is proposed would guard her would lose $1 million bond money if she was allowed to flee.
Of the most recent offer to give up her French and British citizenship, Mr Maxwell said it has caused her "immense distress", adding: "The British citizenship is bad enough because she was brought up and educated here but to have to sacrifice her French citizenship feels like a total betrayal to our mother, Betty.
"Naturally the press has focused on my father's huge presence but to the family my mother was the great power."
Mr Maxwell said that while their father travelled on business much of the year, Betty was ever present. Ghislaine, the youngest of the children, was born in their aunt's maternity clinic just outside Paris.
"Against that background you can understand the distress of the great sacrifice Ghislaine is making," said Mr Maxwell.
He said the public impression of Ghislaine is "entirely wrong", insisting "her greatest passion is the environment".
He said she had been instrumental in "persuading the United Nations to appoint an official to monitor the oceans", adding: "Ghislaine was captivated by the oceans when, as a very young child, she saw the films of Jacques Cousteau and has gone on to become a diver and submersible diver with a huge knowledge of the oceans, and particularly the threats to them from pollution generally and plastics principally."
He made a last plea for his sister to be freed on bail, ahead of a trial in the summer.
"She is much loved by her family and returns that love with a generosity of spirit that I can only ask you to respect. We are solidly behind her.
"We are convinced she will be acquitted and we just hope and believe that he American justice system must grant her much less onerous conditions of detention and finally, and soon, bail."
Source: Telegraph.co.uk