INTERVIEWS
Ruth Bardis' new Greek cookbook curates the perfect culinary experience
There is a joy that comes with cooking different types of meals with your family and making sure that all recipes are adaptable for everyone to enjoy.
Ruth Bardis, who has just released her third cookbook Simply More Greek, believes that Greek food is for everyone and has used her recent release to accommodate the vegetarian and pescatarian diets.
Ruth speaks to The Greek Herald about her newest cookbook and how she makes sure to create cookbooks that are adaptable for all palates.
Tell us about your cookbook that's out right now.
Simply More Greek is my third book on Greek cookery. The recipes in this book are a unique compilation of simple to prepare, classical foods eaten mostly in villages, towns and monasteries throughout Greece. The recipes are based on fresh produce from the garden, seafood from the vast surrounding sea, and baked pies and sweets. All recipes are meat free and half are gluten free. This book is a great addition as it expands on more Greek food mostly unfamiliar in other cookbooks.
What was the process like bringing it together?
After having written 3 books, I am very familiar with the whole process. Though generally straightforward, it does require a lot of time as I am self-published. I start off with an idea, then I read and research, write down thoughts, recipes, and concept ideas.  Once that is on paper, I begin the recipe testing.  This step is rigorous as I test the recipes countless times, ensuring I am happy with the result.  The final aim is to produce a recipe that is easy to read, and easy to replicate.  Thereafter I food style, photograph and edit each recipe.  The final stage is bringing it all together in a cohesive book design.  Once that is all done, the printing begins. That's the process in a nutshell.
What has inspired this new cookbook?
The inspiration for this book came immediately after I had written my first book Hellenic Kanella. I had mapped out a few book ideas for future publishing, one of which was Simply More Greek.  Nevertheless, I ended up completing it third in order after my second book Beyond the Greek Salad. The concept of writing a Greek book predominantly on vegetarian and pescetarian recipes was a no brainer for me, as it is a very common way Greek people eat.
How did your Greek upbringing influence the way you see food?
My Greek upbringing is the primary influence on the way I see food. Culturally we are a nation that loves to cook, eat, and feed people no matter what time of day.  My mother exemplified this so well.   Her love of cooking, and dedication in feeding us healthy meals and teaching my sister and I to cook was of importance to her.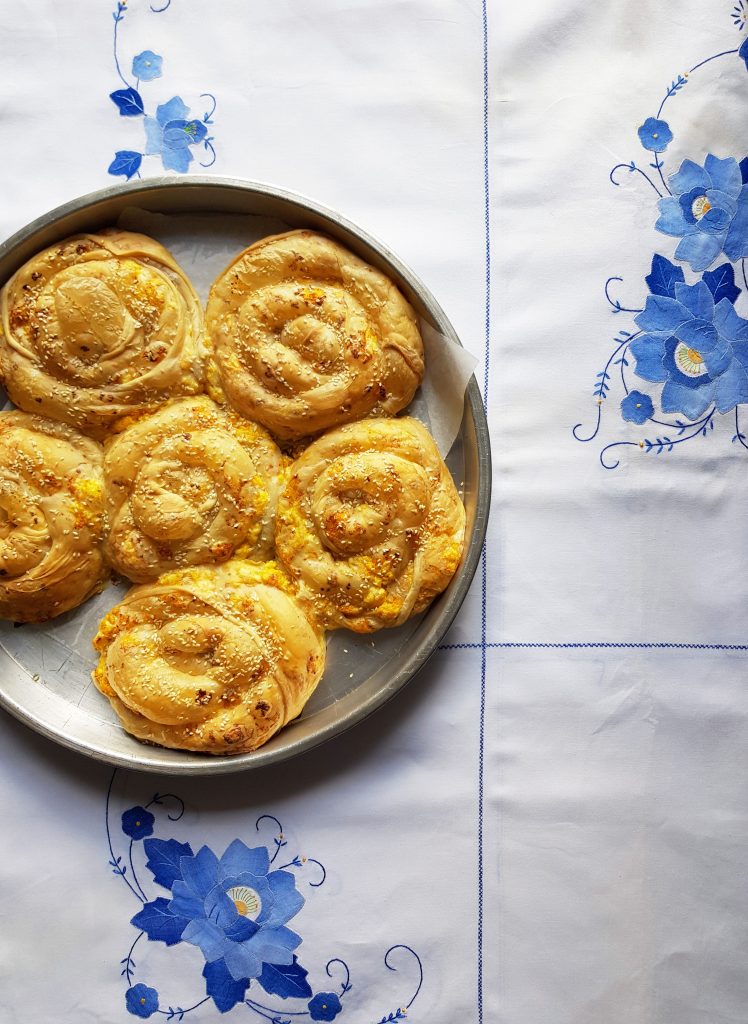 From as young as I can remember I was in the kitchen by her side watching and learning to cook Greek food and show hospitality. I am not at all surprised that I too wanted to learn and continue the traditions I was taught. Cooking is a joy to me, not a chore.
Why was it important for you to photograph your own cookbook?
I think there is something unique in photographing and designing my own books. It is a creative outlet for me and one that helps define my style and personality.  There is a sentimental aspect which reminds me of my Greek upbringing; one that is not obvious to others but incredibly unique to me and my family. 
In the 70's-80's my parents had a successful textile business and were the main suppliers of linens to the Greek community. At the time, they filled glory boxes for myself and my siblings to have once we left home. Hence, as I thought about my book design concept, I decided to honour my parents and use their fabrics and tablecloths. Therefore, shooting my own photos with my choice of styling props and linens reflects a deep nostalgia for me, something I may not have been able to capture if I had not done the photography myself.
Who are you hoping would benefit from this book?
I believe this book will benefit many people. The Greek, the home and avid cook, the vegetarian, the pescatarian, those who love to eat the Mediterranean way.  It will encourage those wanting to bake Greek pies and pastries, and those who just want simply more Greek food to add to their repertoire.
This book is a great addition to one's collection of cookbooks, as it has very simple and easy recipes that are unknown.  As each generation passes, so do many of the recipes. So, to have these documented in this book I believe is a treasure for a cook and the generations to come.
This is your third book, what does this one bring that the others didn't?
I must say all my books are distinct. My first book, Hellenic Kanella, is based on memories made in my kitchen; it is a memoir and an array of common Greek foods. My second book, Beyond the Greek Salad, contains regional foods from all around Greece. My third book, Simply More Greek, is meat free; It homes in on little known vegetarian, pescatarian and baked foods.  It has recipes that are unique yet simple to prepare, with minimum ingredients.
I say, you can't have one without the other!
Source: Greekherald.com.au