GREEKS ABROAD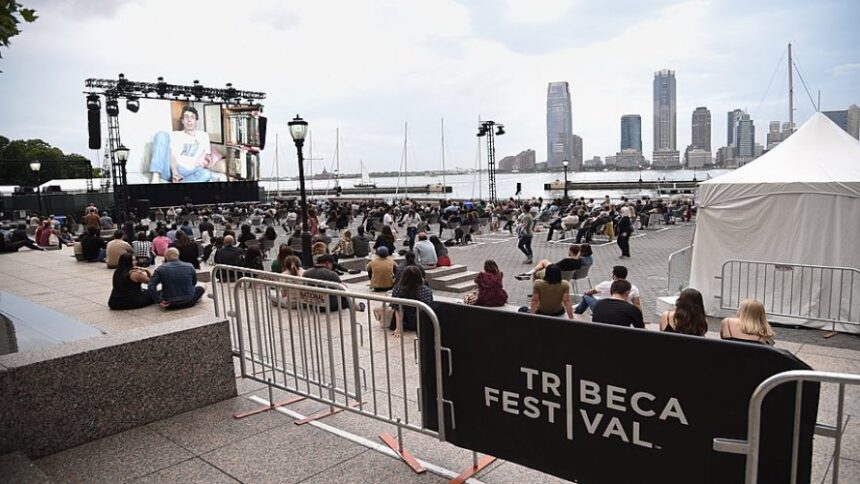 The 20th Tribeca Festival Wraps, Greek-Americans among the Filmmakers
NEW YORK – The 20th Annual Tribeca Festival, presented by AT&T, welcomed back in-person audiences this year and wrapped up on June 20 with a closing ceremony at Radio City Music Hall, hosting its first post-COVID event. Greek-Americans Louie Psihoyos, Kristine Stolakis, Drew Xanthopoulos, and Dennis Latos were among the directors with films presented at the Festival.
Oscar-winning director Psihoyos returned to Tribeca with the new documentary feature Mission: Joy – Finding Happiness in Troubled Times which made its world premiere on June 12, in Tribeca Online Premieres / Tribeca At Home. Deeply moving and laugh-out-loud funny, His Holiness the Dalai Lama and Archbishop Desmond Tutu share science-backed wisdom of how to live with joy in troubled times in the film.
On Day 3, Tribeca Talks: Tina Fey & Co. featured Greek-American Fey in an animated discussion with Jeff Richmond, Busy Phillips, Robert Garlock, and Meredith Scardino about collaborating on such shows as Unbreakable Kimmy Schmidt and their new hit Girls5Eva.
Stolakis' Pray Away premiered at Brooklyn MetroTech on Day 8 of the Festival. She and producer Anya Rous gave heartfelt remarks during the introduction of the documentary which chronicles the "pray the gay away" movement.
The National Herald Left to right: Tina Fey, Robert Carlock, Meredith Scardino, Jeff Richmond and Busy Philipps attend the 2021 Tribeca Festival, Tribeca Talks: Tina Fey & Co. at Spring Studios on June 11 in New York City. (Photo by Cindy Ord/Getty Images for Tribeca Festival)
Also on Day 8, Xanthopoulos' documentary Fathom premiered at Brookfields with producer Megan Gilbride and film subject Dr. Michelle Fournet among those present.
The winning storytellers in Tribeca's competition categories were announced at this year's awards ceremony on June 17 at Spring Studios. Awards were given in the following competition categories: U.S. Narrative, International Narrative, Documentary; Short Films, Immersive, the Nora Ephron Award, and the first-ever Podcast and Games categories. For the first time ever, Italian eyewear brand, Persol, presented the award to the 2021 Best Actor, U.S. Narrative recipient Matthew Leone for God's Waiting Room, directed and written by Tyler Riggs.
Greek-American Alexander Payne, along with Lesli Klainberg, Melissa Leo, Delroy Lindo, and Peter Scarlet, served as the jurors for the 2021 International Narrative Competition.
The awards ceremony honored the most diverse line-up of creators in Tribeca's 20-year history and awarded $165,000 in cash prizes. The top honors in feature films went to The Novice, Brighton 4th, and Ascension. The Jurors for the 2021 Narrative Short Competition were Justin Bartha, Elegance Bratton, Margaret Cho, Hari Nef, and Sheila Nevins. The Special Jury Mention went to Leylak, directed by Scott Aharoni and Greek-American Dennis Latos. Filmed during the pandemic, this live action short film made its world premiere at Tribeca on June 12.
The National Herald Left to right: Busy Phillips, Robert Carlock, Tina Fey, Jeff Richmond, and Meredith Scardino speak onstage at the 2021 Tribeca Festival Tribeca Talks: Tina Fey & Co. at Spring Studios on June 11 in New York City. (Photo by Cindy Ord/Getty Images for Tribeca Festival)
Chanel James and Taylor Garron won the Nora Ephron Award and a $25,000 prize for As of Yet. The award, created nine years ago, honors excellence in storytelling by a female writer or director embodying the spirit and boldness of the late filmmaker.
Tribeca honored innovation in storytelling with its Storyscapes Award for the Immersive section, which went to Felix Gaedtke and Gayatri Parameswaran for Kusunda.
The inaugural Tribeca Podcast honors for the Non-Fiction Narrative Award went to Guardians of the River, and the Fiction Narrative Award went to Vermont Ave.
In the Games category, the first-ever Tribeca Games Award was given to Norco, created by Geography of Robots and published by Raw Fury.
"It's been a challenging time for filmmakers, storytellers, and actors, and we're so proud to honor the perseverance and dedication many of them displayed while working through the many obstacles that arose as a result of COVID-19," said Cara Cusumano, Festival Director and Vice President of Programming. "Each of these recipients truly embody the spirit of our creative community."
A special Virtual Award Winner Screenings series was available for U.S. audiences via Tribeca at Home, June 19-20.
In addition to cash awards and in-kind services provided by sponsors, some award winners received the unique Tribeca Festival Art Award. Supported by CHANEL, the world-class artists donated work to honored filmmakers.
The winners of the Audience Awards, powered by AT&T, which are determined by audience votes throughout the Festival, will be announced next week.
The National Herald The 20th Annual Tribeca Festival closing night was held at the famed Radio City Music Hall, hosting its first post-COVID event. Photo by Eleni Sakellis
Tribeca kicked off the festival on June 9 with the world premiere of Warner Bros. Pictures' highly anticipated musical celebration In the Heights, fittingly taking place at the United Palace with Washington Heights as its backdrop. Tribeca's Centerpiece Gala selection spotlighted director Steven Soderbergh's new crime drama No Sudden Move. Tribeca closed out the festival with a documentary produced by Dave Chapelle's Pilot Boy Productions, presented at the legendary Radio City Music Hall, hosting its first post-COVID event. The premiere was followed by a surprise concert featuring performances by Redman, Talib Kweli, De La Sol, Ghostface Killah, A$AP Ferg, Q-Tip, and Fat Joe.
Other not to miss performances included two legendary rock bands, KISS, performing a medley of their greatest hits set to pyrotechnics, elaborate light displays and a firework finale, as well as, Blondie, performing some of their biggest hits following their documentary screening Blondie: Vivir En La Habana.
As the festival took place during Juneteenth for the first time, Tribeca curated special, festival-wide programming in celebration of the richness of Black stories and storytellers. On Juneteenth, Tribeca presented the first-ever Harry Belafonte Voices For Social Justice Award and awarded it to Stacey Abrams; honored for her outstanding leadership, service and commitment to fighting against injustices through her work as a political leader, voting rights activist, and novelist.
The Festival was founded by Robert De Niro, Jane Rosenthal, and Craig Hatkoff in 2001 to spur the economic and cultural revitalization of lower Manhattan following the attacks on the World Trade Center. Tribeca celebrated its 20th year June 9-20. More information is available online: www.tribecafilm.com/festival.
Source: Thenationalherald.com