GREEKS ABROAD
Department of Modern Greek students recognised at University of Sydney awards ceremony
The University of Sydney's (USYD) School of Languages and Cultures held its annual Awards Ceremony on Thursday night at the MacLaurin Hall.
Over 50 students from across the School, including the Department of Modern Greek and Byzantine Studies, were recognised on the night for their achievements in their selected language courses.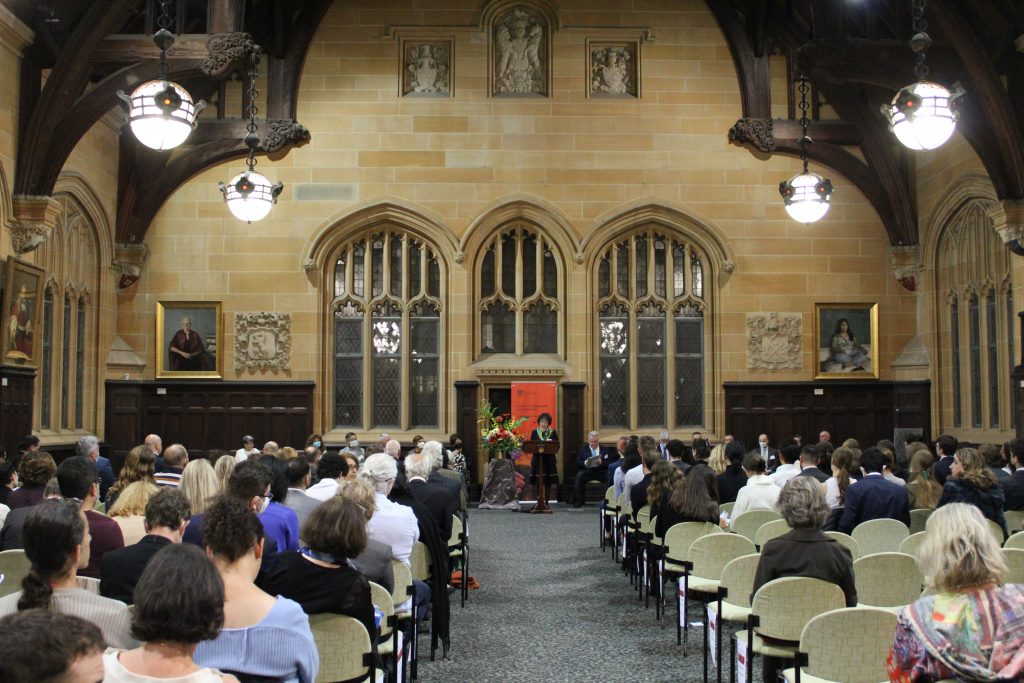 The event kicked off at 6pm sharp with the emcee and Sir Nicholas Laurantus Chair in Modern Greek and Byzantine Studies at USYD, Professor Vrasidas Karalis, thanking everyone for attending and welcoming a number of special guests including the Press Counsellor of the Greek Consulate in Sydney, Costas Giannakodimos.
Professor Karalis then introduced Uncle Allen Madden to the podium for the traditional Welcome to Country, followed by a number of speeches from the Interim Dean of the USYD Faculty of Arts and Social Sciences, Professor Lisa Adkins, and the Head of the School, Professor Yixu Lu.
These speeches were then complemented by three young Greek dancers performing the Kalamatiano, Maleviziotis and Zorba to loud applause for the audience.
Afterwards, an awards presentation was held for students studying languages such as Arabic, Chinese, French, Italian and even Japanese.
In French and Francophone Studies, Olivia Boyages was awarded The Emilie M Schweitzer Scholarship, whilst Paul Statheos received The Percy Joseph Marks Prize for Senior Classical Hebrew.
Nine awards for the Department of Modern Greek and Byzantine Studies were also presented by Associate Professor Anthony Dracopoulos and they were:
G S Caird Scholarship in Second Year Modern Greek: Zoe Hassiotis.
G S Caird Scholarship in Third Year Modern Greek: Elefteria Antonelli.
Order of AHEPA Scholarship in Modern Greek: Dimitra Anthony.
Robert William Henderson Memorial Prize: Anton Sheridan.
The Modern Greek Studies Foundation Prize in Modern Greek Studies 1: Aidan Limnios.
The Modern Greek Studies Foundation Prize in Modern Greek Studies 2: Michael Alexandratos.
The Modern Greek Studies Foundation Prize in Modern Greek Studies 3: Fereniki Ghelis.
The Politis Family Scholarship in Modern Greek and/or Byzantine Studies: Evangelia Sakarellou.
The SUGS Prize for Modern Greek and Byzantine Studies: Anna-Marina Anagnostopoulou.
The Greek Herald spoke with Evangelia Sakarellou after she was awarded The Politis Family Scholarship and she said she was proud to be recognised as she has been studying Modern Greek at USYD since 2019.
"I feel honoured to be recognised by the Department as a student that has excelled in Modern Greek," Evangelia said.
"I was born in Greece so it feels really good to continue my excellence in Modern Greek in Australia because I feel like I'm representing my country and I really miss it. I love studying Greek because it feels like a continuation of the language."
At the conclusion of all formal proceedings, refreshments were served as students mingled and congratulated each other on their achievements.
*All photos copyright: The Greek Herald / Andriana Simos.
Source: Greekherald.com.au